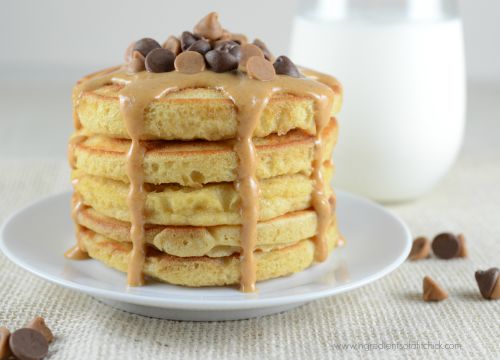 Toffee Peanut Butter Chocolate Chip Pancakes
Is there any better way to start off the day than with a healthy stack of pancakes, sweetened with a bit of toffee peanut butter and a few chocolate chips for extra fun? I didn't think so! This is one delicious stack that the whole family will enjoy!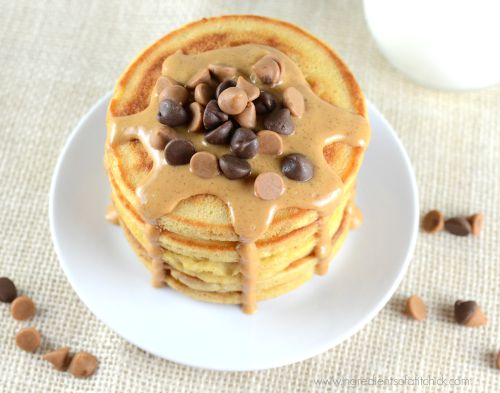 Toffee Peanut Butter Chocolate Chip Pancakes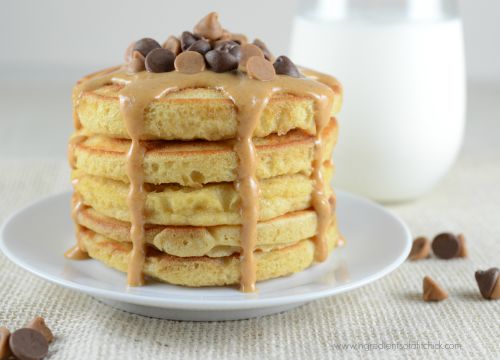 Print Prep time 10 mins Cook time 10 mins Total time 20 mins   Author: Sarah Recipe type: Breakfast Serves: 2 servings Ingredients
⅓ cup + 1 tbs (50g) cassava flour*
1 tsp baking powder
2 large eggs
¼ cup milk*
2 tbs toffee peanut butter, divided
sweetener, as desired
2 tbs chocolate chips, if desired
Instructions
Whisk together eggs, milk, 1 tbs peanut butter and sweetener
Add in cassava flour and baking powder
Allow batter to sit while you heat a pan over medium heat
Add additional milk at this time, if needed to create a pancake like consistency
Drop batter into pan in 2-4tbs size servings (depending how big you want the pancakes)
Cook until small bubbles begin to form
Flip and cook for an additional 1 minute
Repeat until all batter is cooked
Divide pancakes into 2 stacks
Top each stack with 1.5 tsp peanut butter and 1 tbs chocolate chips
Enjoy!
Notes *cassava flour can be subbed with whole wheat flour
*use milk of choice and add until desired consistency Nutrition Information Serving size: 1 Calories: 334 Fat: 15g Carbohydrates: 37g Sodium: 105mg Protein: 15g 3.2.2925