 Two Ingredient Berry Crumble
TGIF!! I hope you had a fantastic week! Do you have anything fun planned for the weekend?
There is no better way to satisfy your sweet tooth than with natures candy….fresh berries! This two ingredient dessert is not only extremely healthy, but I think it also tops the chart when it comes to versatility and simplicity! Could it really get any better than that?!
I hope you enjoy! Have a great weekend!
xo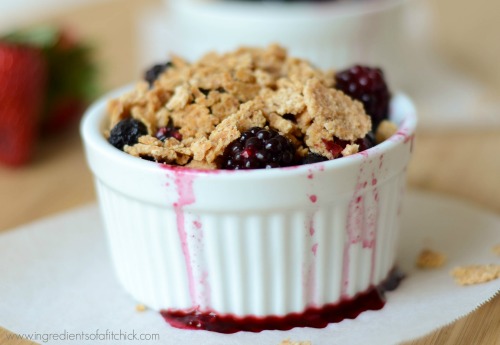 Two Ingredient Berry Coconut Crumble Prep time 5 mins Cook time 10 mins Total time 15 mins   A quick and easy sweet treat that requires no added sugar and is healthy enough for breakfast! Author: Sarah Recipe type: Dessert Cuisine: Dessert Serves: 2 Ingredients
Instructions
Preheat oven to 350 degrees
Spray 2 – 4in ramekins with non stick spray
Divide berries evenly between the 2 dishes
Crumble cereal over the top
Bake until bubbly (~10 minutes)
Top with whipped coconut cream, if desired
Notes *you can substitute this cereal with your favorite cereal of choice. however, please add a ½ tbs coconut oil to cereal so it does not burn. Would also be great topped with flaked coconut Nutrition Information Serving size: 1 dish Calories: 125 Fat: 6g Saturated fat: 5.5g Carbohydrates: 18g Sugar: 10.5g Sodium: 10mg Fiber: 6g Protein: 1.5g 3.2.2925