Red, White & Blue Protein Pancakes 
Happy Thursday! And happy early 4th of July for those of us here in the states celebrating! First off, I want to apologize for the lack of posts over the last week. My grandmother passed and I had to fly back home on short notice. But, with death always comes life and celebration! I spent most of my 4th of July weekends on Cape Cod with my grandmother! She would always start the holiday morning off with a breakfast full blueberries, raspberries and cottage cheese or yogurt to show off the red, white and blue! So, in celebration of her I am dedicating this post to her!
This recipe is not only protein packed, but it is quick, easy and full of antioxidants from the fresh berries of the season! Head over to www.muscleandstrength.com to get the full recipe!
I hope you have a wonderful long weekend filled with fun, family, friends and delicious food!
xoxo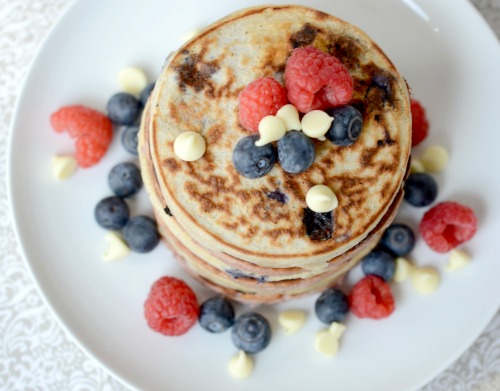 Red, White & Blue Protein Pancakes 2015-03-23 17:18:05 Celebrate the 4th of July with a protein packed breakfast made with fresh berries of the season! Write a review Save RecipePrint Ingredients
You can find the full recipe at: www.muscleandstrength.com
Notes
Nutrition: 1 serving
Calories: 249, Protein: 26.1g, Carbs: 29.7g, Fat: 2.9g
By Sarah Ingredients Of A Fit Chick https://ingredientsofafitchick.com/