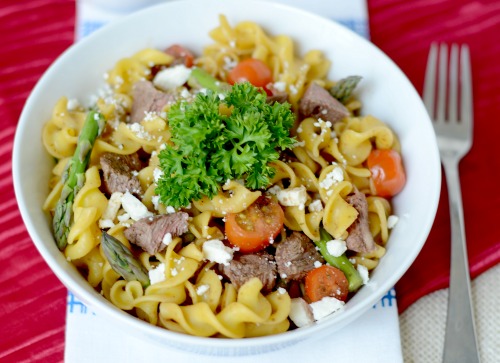 Balsamic Steak & Pasta Salad
Happy Monday! I hope you had a great weekend! With the summer weather here I'm sure many of you were grilling and eating pasta salad, right?! If so, I have the perfect recipe that combines BOTH of those summer time dishes into one protein packed and flavorful meal!!  Who doesn't love steak and pasta too!? Head over to www.muscleandstrength.com to get this latest recipe! Not only is it simple, but it makes a great main dish OR side AND it's tasty hot or cold! Now that is a winning dish!
I hope you enjoy! Have a great start to your week!
xo
Balsamic Steak & Pasta Salad2015-03-23 12:58:17
This quick and easy pasta salad makes the perfect recipe for a main dish or a side! Enjoy it warm or chilled — it is so versatile you will want to make it all season! Write a review Save RecipePrint Ingredients
You can find the full recipe at: www.muscleandstrength.com
Notes
Nutrition: 1 serving (as main dish)
Calories:394, Protein: 43g, Carbs: 39.3g, Fat: 9.5g
By Sarah Ingredients Of A Fit Chick https://ingredientsofafitchick.com/