Chocolate Drizzled Pumpkin Spice Protein Bars
Happy Wednesday! I hope your week is going well! Today I have a very quick and protein packed treat to share with you! These protein bars require no baking and only a few simple ingredients….which happen to be 2 of my favorites! And to make things even more exciting, MuscleEgg has launched a temporary run of the Pumpkin Spice EggWhites so make sure to hurry over to the website and grab a few gallons before they are gone! Plus, you can get 15% off any of your Nuts N More purchases using the code: fitchick! Such a win all around!
I hope you enjoy the recipe! Have an amazing day!
xo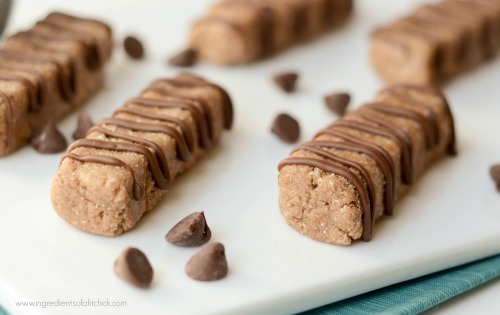 Chocolate Drizzled Pumpkin Spice Protein Bars  
Prep time 5 mins Total time 5 mins   A healthy, protein bar that takes less than 5 minutes to make and costs a fraction of those high priced store bought bars! Author: Sarah Recipe type: Snack Serves: 12 bars Ingredients
Instructions
Mix together all ingredients except peanut butter (use your muscles and keep mixing….it WILL come together)
Place in the refrigerator for 20 minutes
Mold into desired size/shape bars
Drizzle with chocolate peanut butter
Notes *used desired dry sweetener of choice Nutrition Information Serving size: 1 bar Calories: 145 Fat: 6.9g Saturated fat: 1.6g Carbohydrates: 12.5g Sugar: 1.2g Sodium: 37mg Fiber: 2.9g Protein: 9.7g 3.2.2925