Happy Monday! I hope you had a great weekend! Let's kick off this week with some simple chocolate treats! Is there a better way to start off the week? ?
For those of you who don't follow me on social media, I also have some exciting news! I will be moving back to AZ this week! Yes, land of the sunshine! You won't ever have to hear me say a word about snow again! haha I will still be posting recipes, but they may be a little less frequent until I am unpacked and settled. They say it could be 21 days until my things are delivered. I don't know if I will be able to go that long without cooking! I guess we will see!
I have also connected with some other bloggers in AZ and we will be planning a get together at the end of the summer/early fall! So, if you are local to the Phoenix area, let me know!
I hope you have a great start to your week!
xo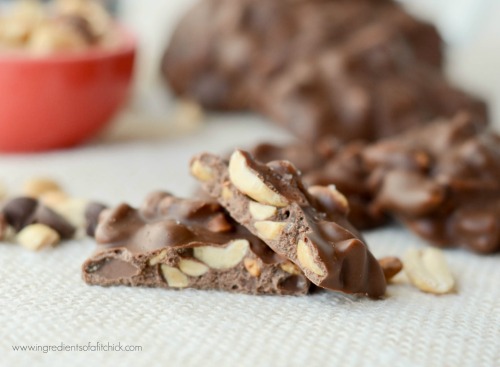 Salted Chocolate Peanut Clusters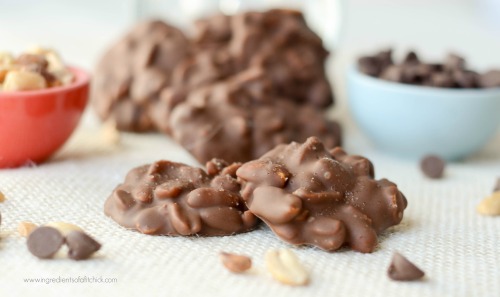 Prep time 5 mins Total time 5 mins   Satisfy your salty and sweet tooth with this simple, protein packed peanut cluster recipe Author: Sarah Recipe type: Dessert Serves: 24 clusters Ingredients
Instructions
Line a baking sheet with parchment paper
Melt chocolate in a microwave safe bowl (or in a glass dish over a pot of hot water)
Mix peanut butter into chocolate
Stir in peanuts
Drop chocolate peanut mixture in tablespoon size servings onto parchment paper
Sprinkle with sea salt
Place in freezer to set
Store in refrigerator
Notes *if you peanut butter seems to be a bit dry add 1 tsp oil Nutrition Information Serving size: 1 cluster Calories: 98 Fat: 7.8g Saturated fat: 2.8g Carbohydrates: 6.5g Sugar: 1g Sodium: 40mg Fiber: 1.6g Protein: 3.4g 3.2.2925