Chocolate Frosted Banana Donuts
Happy Wednesday! I hope you are having a great week! Today, I have a super simple and protein packed recipe to kill that donut craving!
Nothing beats starting the morning off with a bit of chocolate and banana! This is one recipe that the kids will enjoy too! Have a great day!
xo Chocolate Frosted Banana Donuts2015-03-24 14:40:24 Serves 4 This donut recipe is both easy and heathy! Write a review Save RecipePrint Prep Time 10 min Cook Time 12 min Total Time 22 min Prep Time 10 min Cook Time 12 min Total Time 22 min Ingredients
1 scoop + 1 tbs (70g) Flap Jack Banana Nut Pancake Mix
1 large egg
2 tbs mashed banana (40g)
1/4 cup milk
Sweetener, if desired
2 tbs Nuts N More Chocolate PB
Instructions
Preheat oven to 350 degrees
Spray donut pan with non stick spray
Mix together all ingredients except peanut butter
Evenly divide batter between 4 donut molds
Bake for ~12 minutes or until toothpick is clean
Allow to cool
"Frost" with chocolate peanut butter
Notes
Nutrition: 1 out of 4 frosted donuts
Calories: 169, Protein: 12g, Carbs: 12.6g, Fat: 8.2g, Sat Fat: 1g, Sodium: 150mg, Fiber: 3.5g, Sugar: 4.5g, Net Carbs: 9.1g
By Sarah Ingredients Of A Fit Chick https://ingredientsofafitchick.com/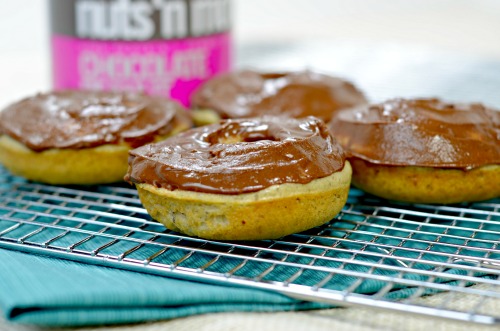 You can find the products used in this recipe here: