White Chocolate Strawberry Coconut Protein Truffles
Happy Saturday! I know, you are surprised by a Saturday post, right?! Well, since tomorrow is Easter for many of us, I wanted to make sure I shared this delicious treat that would be perfect for tomorrow! Not only is it quick and easy, but requires no baking and will satisfy your sweet tooth so you don't have to dive into the Easter basket! ? Head HERE to get the full recipe and ingredients list to this amazing sweet treat!
For those of you celebrating Easter tomorrow, I hope you have a wonderful and blessed day with your family and friends! For everyone else, I hope you still have a wonderful day!
xxoo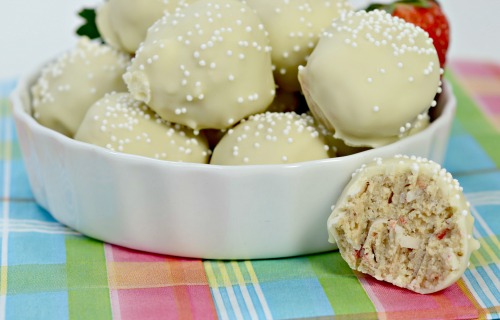 White Chocolate Strawberry Coconut Protein Truffles2015-02-20 14:19:21 Serves 20 Enjoy this sweet, spring treat without the guilt! Write a review Save RecipePrint Prep Time 10 min Total Time 10 min Prep Time 10 min Total Time 10 min Ingredients
You can find the full recipe at www.muscleandstrength.com
Notes
Nutrition: 1 out of 20 bites
Calories: 87, Protein: 4.2g, Carbs: 8.2g, Fat: 4.4g, Sat Fat: 3.4g, Sodium: 22mg, Fiber: 1.1g, Sugar: 4.1g, Net Carbs: 7.1g
By Sarah Ingredients Of A Fit Chick https://ingredientsofafitchick.com/