Kale, Sweet Potato, Chorizo & Shrimp Hash
TGIF Friends! Who else is happy it is Friday! I had a major craving for a savory breakfast the other day (most be from the overload on those crepes Wednesday ;)) I tossed a few ingredients I had on hand to make this salty and sweet breakfast hash! It was ready in minutes! Plus it is packed with protein and healthy carbs to get you energized for the day! I hope you enjoy!
Have a great weekend!
xo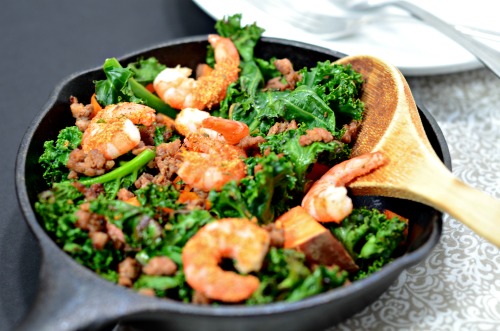 Kale, Sweet Potato, Chorizo & Shrimp Hash2015-01-25 16:37:07 Serves 2 A sweet and savory hash that can be enjoyed for breakfast or a side dish to lunch or dinner! Write a review Save RecipePrint Prep Time 10 min Cook Time 10 min Total Time 20 min Prep Time 10 min Cook Time 10 min Total Time 20 min Ingredients
1 cup kale
1 medium sweet potato, diced
1/2 medium onion, chopped
3oz SizzleFish Shrimp
2 oz 5280 Meat Chorizo
1 tbs Essentially Coconut Butter
1 tsp ground cinnamon
Instructions
Heat a skillet over medium heat
Saute sweet potato for 3-4 minutes
Add chorizo and coconut butter to pan
Saute 1-2 minutes
Add in onion
Sautee an additional 2 minutes
Add in kale and shrimp
Toss together and cook an additional 3-4 minutes
Serve
Notes
Nutrition: 1 out of 2 servings
Calories: 289, Protein: 16.7g, Carbs: 26.3g, Fat: 14.1g, Sat Fat: 7.6g, Sodium: 347mg, Fiber: 5.2g, Sugar: 4.8g, Net Carbs: 21.2g
By Sarah Ingredients Of A Fit Chick https://ingredientsofafitchick.com/ You can find the products used in this recipe here: