Cheesy Parmesan Grits with Shrimp
Happy Monday! I hope you had a great weekend! I was up at my sisters again on Saturday to help while the movers loaded up her truck! I can't believe she is already moving back! Luckily, I will be going out to visit her at the end of April! Until then, we will all just have to keep ourselves occupied by whipping up some of these tasty recipes! Today's dish is one that will not only satisfy your craving for a comfort meal, but can also be made in minutes with only a few simple ingredients!
I hope you enjoy! Have a great Monday!
xo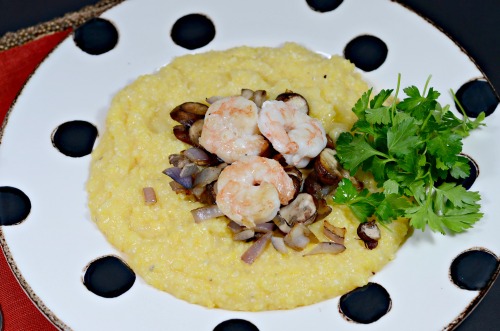 Buttery Parmesan Grits with Shrimp2015-02-09 17:02:12 Serves 1 Warm, cheesy grits topped with sweet, succulent shrimp! Write a review Save RecipePrint Prep Time 10 min Cook Time 20 min Total Time 30 min Prep Time 10 min Cook Time 20 min Total Time 30 min Ingredients
1/4 cup polenta
2 tsp ghee (1 tsp + 1 tsp)
1 tbs Parmesan
4 oz SizzleFish shrimp
2 tbs onion, diced
2 oz portobello mushrooms
cracked black pepper, to taste
Instructions
Cook polenta according to package directions (made with water)
While polenta is cooking, saute onions and mushrooms in 1 tsp ghee.
Add in shrimp and sear on each side until just pink
When polenta is done cooking immediately stir in 1 tsp ghee, parmesan and cracked black pepper
Spoon polenta/grits into a bowl and top with sauteed veggies and shrimp
Notes
Nutrition: entire recipe
Calories: 423, Protein: 33.6g, Carbs: 35.8g, Fat: 16.6g*, Sat Fat: 9.4g, Sodium: 397mg, Fiber: 4.2g, Sugar: 2g, Net Carbs: 31.6g
*Can reduce fat by using less ghee
By Sarah Ingredients Of A Fit Chick https://ingredientsofafitchick.com/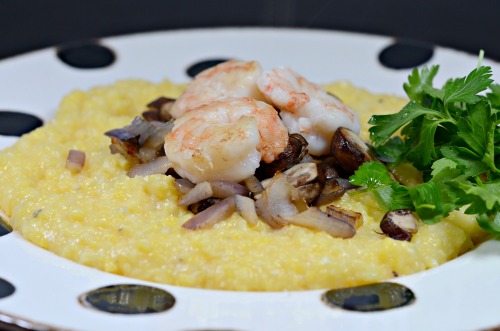 You can purchase the items used in this recipe below: