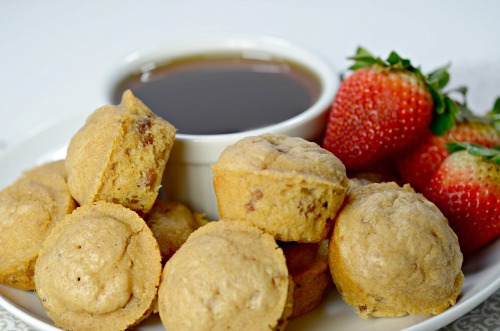 Cinnamon Chorizo Pancake Popper
TGIF Friends! Yes, I will admit…..my cravings for salty and sweet have been off the charts lately! I can't explain it, but you have to admit, it is an amazing combination, right? I mean, that's how all the fast food joints hook us in. They load their foods with both sugar and salt to tantalize our taste buds from every angle and keep us coming back for more! But, instead of enjoying salty and sweet in an unhealthy way, you can whip up this quick recipe (or this one) and enjoy it in a delicious and healthy way! Even the kids would love this! I hope you enjoy!
Have a great weekend!
xo Cinnamon Chorizo Pancake Poppers2015-02-17 14:42:44 Serves 3 A sweet and savory bite sized breakfast treat that is packed with protein! Write a review Save RecipePrint Prep Time 10 min Cook Time 12 min Total Time 22 min Prep Time 10 min Cook Time 12 min Total Time 22 min Ingredients
1/2 cup Cinnamon Bun Stack'd Pancake Mix
2 oz 5280 Meat Chorizo
1/4 c water (or milk)
1 large egg white
Syrup for dipping, optional
Instructions
Preheat oven to 350 degrees
Spray a mini muffin pan with non stick spray
Cook chorizo in medium skillet
Combine all ingredients, minus syrup, in a bowl
Evenly divide batter among 12 mini muffin cups
Bake for ~12 minutes
Serve with a side of syrup for dipping
Notes
Nutrition: 1 out of 12 poppers
Calories: 41, Protein: 3.3g, Carbs: 2.3g, Fat: 4.6g, Sat Fat: 0.7g, Sodium: 87mg, Fiber: 0.3g, Sugar: 0.6g, Net Carbs: 2.0g
By Sarah Ingredients Of A Fit Chick https://ingredientsofafitchick.com/ You can find the products used in this recipe here: