Double Peanut Butter Banana Split Sandwich
Happy Friday! I hope you had a great week! I thought we would end the week on a sweet note! Who doesn't love a good peanut butter sandwich? How about a sandwich that has double peanut butter, a huge dose of healthy protein and chocolate? Sounds like a win to me! This tasty sandwich is sure to transport you back to your days as a kid! I hope you enjoy!
Have a great — peanut butter weekend! ?
xo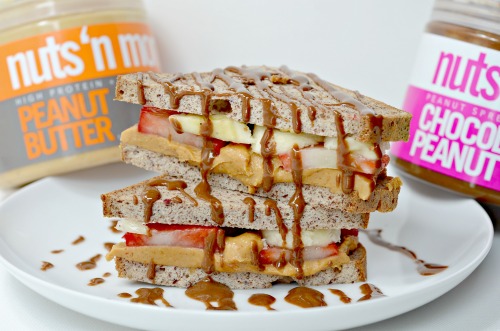 Peanut Butter Banana Split Sandwiches2015-02-01 14:07:42 Serves 2 A delicious, double peanut butter twist on your favorite kid sandwich! Write a review Save RecipePrint Prep Time 5 min Total Time 5 min Prep Time 5 min Total Time 5 min Ingredients
2 slices light bread of choice
2 tbs Nuts N More High Protein Peanut Butter
1/4 small banana, sliced
2 strawberries, sliced
1/2 tbs Nuts N More High Protein Chocolate Peanut Butter
Instructions
Spread the plain peanut butter on 1 slice of bread
Top with sliced banana and strawberries
Place 2nd slice of bread on top
Drizzle with chocolate peanut butter (or conversely add chocolate peanut butter to 2nd slice of bread)
Notes
Nutrition: 1 out of 1 serving
Calories: 378 Protein: 21.6g, Carbs: 37g, Fat: 15.9g, Sat Fat: 1.3g, Sodium: 200mg, Fiber: 10.6g, Sugar: 6.7g, Net Carbs: 26.4g
By Sarah Ingredients Of A Fit Chick https://ingredientsofafitchick.com/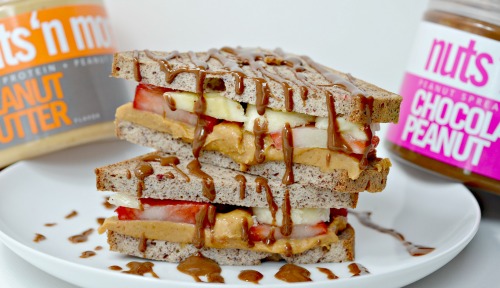 You can find the Nuts N More butters used in this recipe here: