Chocolate PB Banana Bars
Happy Friday!!! Boy do I have a chocolate and peanut butter treat for you today! This delicious bars is not only loaded with flavor, but also dripping in high protein peanut butter!!
Don't forget to tune into ABC tonight to watch the Nuts N More update on Shark Tank at 9:00pm EST!!!
Have a great weekend Family!!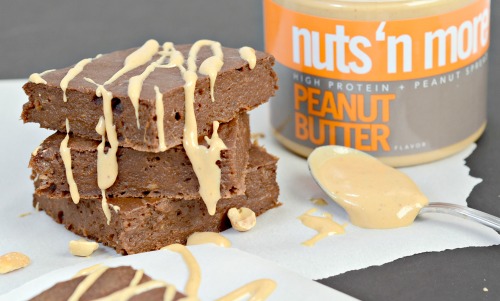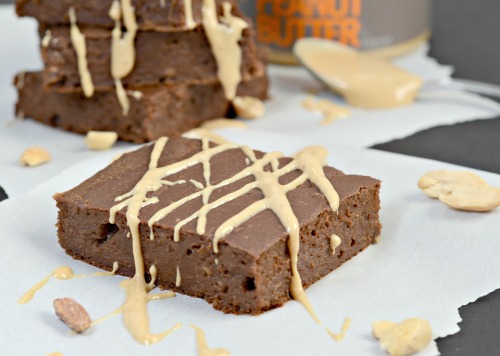 Serves 12 A melt in your mouth, chocolate banana bar topped with sweet peanut butter! Write a review Save RecipePrint Prep Time 15 min Cook Time 30 min Total Time 45 min Prep Time 15 min Cook Time 30 min Total Time 45 min Ingredients
1 cup (112g) gluten free flour
1/4 cup (30g) peanut flour
1/4 cup (20g) cocoa powder
1/2 cup xylitol (or sweetener of choice)
1 tsp baking powder
pinch salt
2 bananas, mashed
1/2 cup greek yogurt
1/2 cup water
2 tbs (42g) honey
1 tbs pure vanilla extract
3 tbs (48g) Nuts N More Peanut Butter (or more if you're a PB lover like me! ?
Instructions
Pre heat your oven to 350 degrees
Line an 8×8 baking pan with parchment (or coat with non stick spray/oil)
Whisk together dry ingredients
Mix all wet ingredients, except Nuts N More
Combine wet and dry ingredients
Pour batter into pan and bake for ~30-35 minutes *they will be fudgey!
Allow bars to cool
Drizzle bars with peanut butter
Serve!
*I actually found the flavor to be better 1 day later!
Notes
Nutrition: 1 out of 12 bars
Calories: 114, Protein: 4.5g, Carbs: 23.7g, Fat: 2g, Sat Fat: 0.2g, Sodium: 7mg, Fiber: 2g, Sugar: 5g, Net carbs: 21.7g
By Sarah Ingredients Of A Fit Chick https://ingredientsofafitchick.com/