Double Chocolate PB Donuts 
Happy Monday! I hope you had a great weekend! Today I have a delicious (and easy) recipe for you that was made with a new mix I tried, Simply Stacked! Simply Stacked is a 100% Whole Grain & Gluten Free mix that is also free of Dairy, Soy, Refined Sugars, plus is high in Fiber! You all know that is right up my alley! By now you all know that, even though I love my waffles and pancakes, I like to get a little creative with new products I find! So, I decided to kick my chocolate donut craving one morning by turning the Simply Stacked mix into this delicious recipe! It couldn't have come out any better!!
I hope you enjoy the recipe and have a great Monday!
I also, put all the links below to this mix so you can check it out too! Healthy foodie finds are the best, so of course I have to share!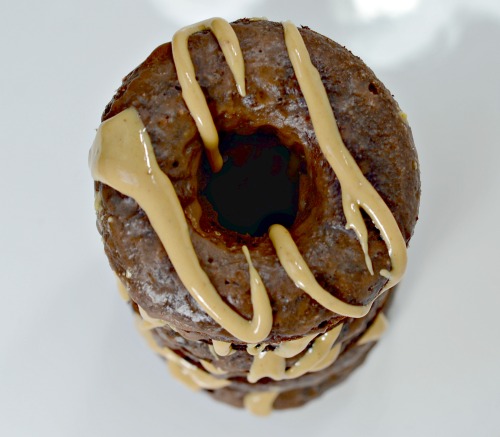 Double Chocolate PB Donuts2015-01-16 17:18:41 Serves 6 A healthy, double chocolate, protein pb topped donut that is sweet enough for even the pickiest donut lover! Write a review Save RecipePrint Prep Time 10 min Cook Time 16 min Total Time 26 min Prep Time 10 min Cook Time 16 min Total Time 26 min Ingredients
1/4 cup (27g) Simply Stacked Waffle Mix
1/4 cup (30g) Dark Chocolate Cocoa Powder
1/4 cup xylitol (or sweetener of choice)
1 tsp baking powder
1 large egg
2 large egg whites
1/4 cup milk
1 tbs pure vanilla extract
TOPPINGS
2 tbs (32g) Nuts N More Protein Peanut Butter
1.5 (21g) Sweet Spreads Chocolate Brownie CocoNutter
Instructions
Preheat oven to 350 degrees
Coat donut pan with non stick spray
Sift together dry ingredients
Whisk together wet ingredients
Combine wet and dry ingredients
Evenly divide batter among 6 donut molds
Bake for ~16 minutes
Allow donuts to cool
Melt CocoNutter
Dip top of each donut in coconutter and allow to set
Drizzle with peanut butter
Notes
Nutrition: 1 out of 6 donuts
Calories: 130, Protein: 6.4g, Carbs: 14.2g, Fat: 7.8g, Sat Fat: 3.7g, Sodium: 106mg, Fiber: 6.6g, Sugar: 2.1g, Net Carbs: 7.6g
By Sarah Ingredients Of A Fit Chick https://ingredientsofafitchick.com/