 SizzleFish Salmon Cheddar Melt
Happy Friday Friends! I hope you had a great week! Can you believe January is OVER?! This is just crazy to me! Who will be watching the SuperBowl this weekend? I am not a football fan….I know! But I will definitely be checking out the half time show! I hope you have all your health snacks prepped and ready to go! If not, HERE is a great one!
But before we enjoy all the party snacks on Sunday, here is a quick and tasty recipe that will keep you on track with those nutrition goals!
I hope you enjoy! Have a great weekend!
xo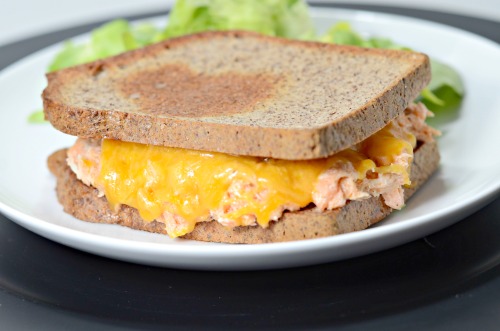 Serves 1 A protein packed, cheesy melt that is the perfect comfort meal! Write a review
Save Recipe
Print
Prep Time 5 min Cook Time 10 min Total Time 15 min Prep Time 5 min Cook Time 10 min Total Time 15 min Ingredients
3 oz cooked SizzleFish Sockeye Salmon
1 tbs greek yogurt
2 tbs cheddar cheese
lots 'o FLavorGod Everything Spicy Seasoning
2 slice Julian Bakery Paleo Almond Bread
Instructions
Mix together your salmon, greek yogurt and seasoning
Heat a non stick skillet over medium heat
Coat with non stick spray (or coat outside of bread with ghee)
Place salmon mixture onto 1 slice of bread, sprinkle with cheese and top with 2nd slice
Cook until golden.
Flip
Repeat
Notes
Nutrition: 1 out of 1 sandwich
Calories: 410, Protein: 46.2g, Fat: 25.4g, Sat Fat: 4.2g, Sodium: 340mg, Fiber: 8g, Sugar: 2.4g, Net Carbs: 2.9g
By Sarah Ingredients Of A Fit Chick https://ingredientsofafitchick.com/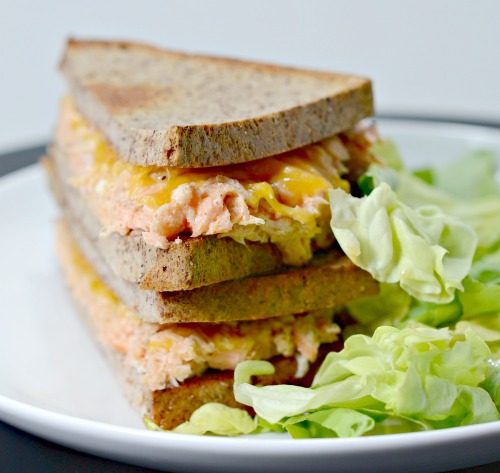 You can find any of the products used in this recipe below!
(you can use promo code: FITCHICK10 to get 10% off your SizzleFish order)