Spicy Salmon Dip
Happy Monday! I hope you had a great (final) weekend of January!
Who's already thinking about the SuperBowl this upcoming weekend? Today I am sharing a quick recipe over on YouTube for a Spicy Salmon Dip that is perfect for the game this weekend! Check it out below!
I hope you enjoy! Have a great Monday!
xo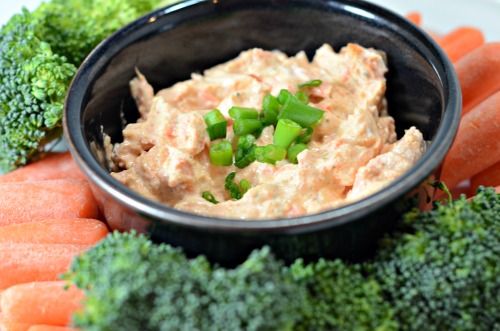 Spicy Salmon Dip2015-01-13 11:09:03 Serves 10 A quick, 4 ingredient dip that is packed with protein and flavor! Write a review Save RecipePrint Prep Time 5 min Total Time 1 hr 5 min Prep Time 5 min Total Time 1 hr 5 min Ingredients
1 container Elli Quark Plain
1/3 cup mayo (or more quark)
2-3 pieces SizzleFish Sockeye Salmon, cooked & flaked
Flavor God Everything Spicey Seasoning, to taste
Instructions
See video above for full durections!
Notes
Nutrition: 1 out of 10 servings (1 serving=2 tbs)
Calories: 97, Protein: 6.5g, Carbs: 0.6g, Fat: 7.4g, Sat Fat: 1g, Sodium: 100mg, Sugar: 0.6g, Fiber: 0g, Net Carbs: 0.6g
By Sarah Ingredients Of A Fit Chick https://ingredientsofafitchick.com/