Asics Gel-Fit Sana Review
Happy Tuesday Friends! I hope you have started 2015 off on the right foot….and in the right pair of sneakers!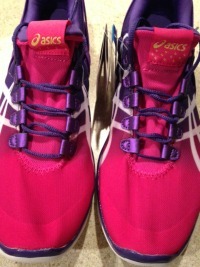 A few weeks before Christmas the team at Asics reached out to me and wanted to know if I would be interested in reviewing their new sneaker. Of course, the first thing I did (besides get very excited because you all know how much I love sneakers) was head to their website and check it out. What stood out to me was…..
*The amazing  bright colors
*The light weight feature
*The flexibility of the shoe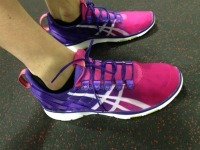 You all know that those are 3 VERY important things to me. The lighter the sneaker the better in my opinion. Of course, I agreed to review them right away! I am so happy I did too! When the box arrived the colors were light a rainbow! Not only did they make me smile, but my next thought was, "I can wear these from the gym to run errands because they are a great looking shoe!"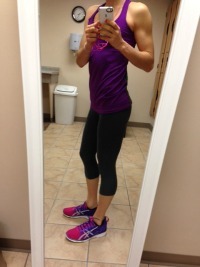 That is exactly what I did the next day! I actually ended up wearing them all day long!!! They were so comfy I didn't want to take them off. They fit snug to my foot, were very light weight, gave me plenty of support and were super flexible! It was almost as if I was bare foot (which is truly my favorite way to be!)
The only downside I would say is that they were a bit narrow (luckily I have a narrow foot) so they might not work too well for someone with a wide foot. But other than that, I am in love with them!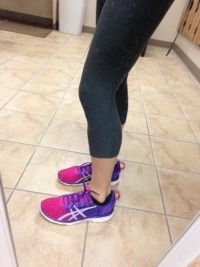 So, if you haven't picked yourself up a new pair of workout shoes for 2015 (because we all know everyone is back in the gym now….except, YOU because you never left! ;)) I think these Asics are the way to go! You can wear them anywhere so you will get tons of use from them!
This post is sponsored by FitFluential on behalf of ASICS.
//