 White Chocolate Sesame CranButter Thumbprints 
Happy Monday! I hope you had a great weekend! Mine was amazing! I was at the Nuts N More event Saturday and it went amazing! So nice to see everyone come out and support both myself and the Nuts N More team!
Today, I am sharing a delicious cookie that is using one of their newest nuts butters, Sesame CranButter. These quick, no bake cookies are perfect for the holiday this week! I hope you enjoy! Have a great Monday!!
xo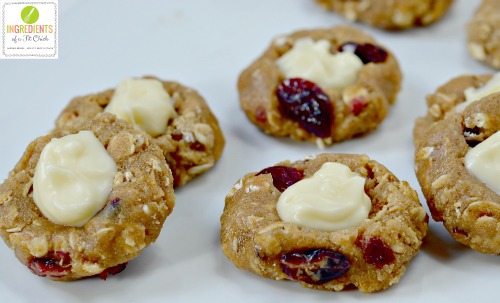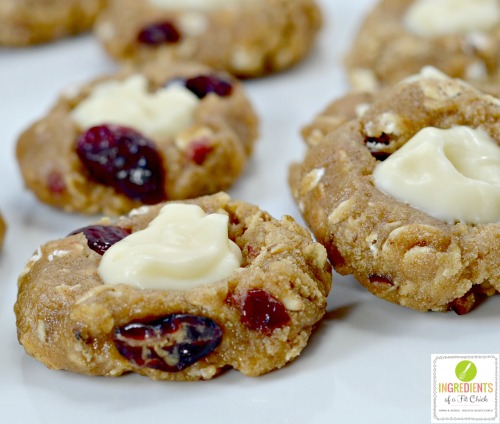 Save RecipePrint Ingredients
1/3 cup + 2.5tbs (60g) oat flour
1/2 cup (40g) rolled oats
1 scoop (40g) Nuts N More Vanilla Whey Protein Powder
1/4 cup (64g) Nuts N More Sesame CranButter
2 tbs (42g) honey
2-3 tbs water
3 tbs white chocolate, melted
Instructions
Sift together dry ingredients
Mix in cranbutter and honey
Add in water 1 tbs at a time until stiff dough forms
Roll dough into 15 balls and make an indentation in middle with your thumb (print)
Drop 1/2 tsp white chocolate in thumb print hole
Put in refrigerator and allow to set
Notes
Nutrition: 1 out of 15 cookies
Calories: 85, Protein: 4.1g, Carbs: 10.1g, Fat: 3.4g, Sat Fat: 1.2g, Sodium: 5mg, Fiber: 1.3g, Sugar: 4.3g, Net Carbs: 8.8g
Ingredients Of A Fit Chick https://ingredientsofafitchick.com/