Vanilla Sugar Cookie Bars
Happy Friday! I hope you had a great week! I have been baking cookies for the Nuts N More party tomorrow for the last 2 days! 400+ cookies are being made! WOW!!! So, if you are local to their store in Rhode Island, make sure to stop by tomorrow, say hi and try out some cookies!

For those of you who aren't local or can't stop by, I will leave you with this DELICIOUS recipe! I will admit…of all of the cookie recipes I made this season, this one was by far my favorite!!! So, if you are looking for one recipe to make for your holiday table, I highly recommend these!!
I hope you enjoy! Have a great weekend!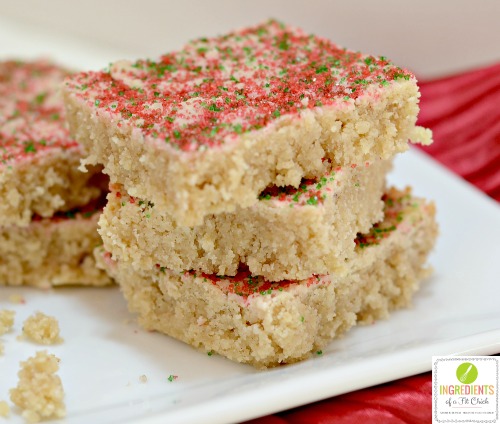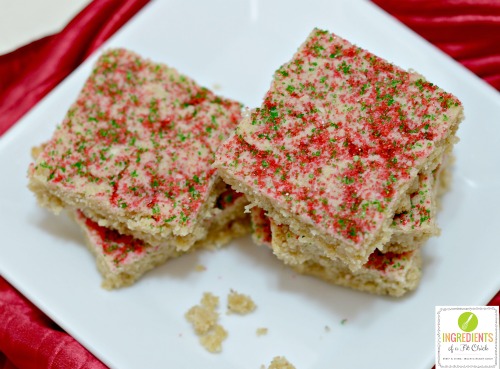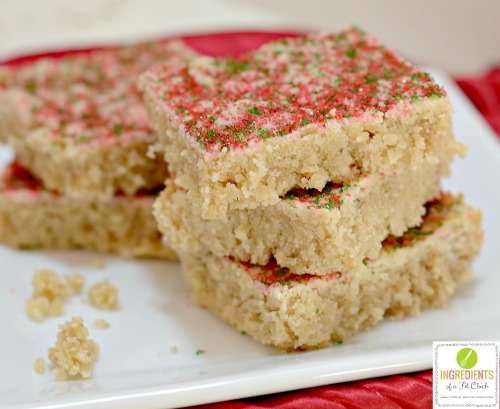 Vanilla Sugar Cookie Bars2014-10-27 16:56:30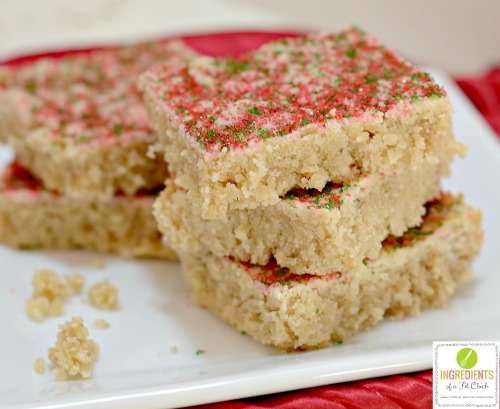 Serves 24 A gluten free and healthy twist on a holiday favorite! Write a review Save RecipePrint Prep Time 15 min 18 min Total Time 43 min Cook Time 18 min Total Time 43 min
2 cups (224g) almond flour (not meal)
2 tbs (16g) oat flour
1/4 cup sweetener of choice (I used Xylitol)
1/2 tsp baking powder
pinch salt
1 large egg
6 tbs (72g) SweetSpreads Vanilla Cupcake CocoNutter, melted
1 tbs butter, melted
Sprinkles, optional
Instructions
Preheat oven to 325 degrees
Coat a baking pan with non stick spray
Sift together dry ingredients, minus sweetener
Cream together egg and sugar
Add in butter and coconutter
Combine wet and dry ingredients
Spread batter evenly into the pan
Bake for ~ 18 minutes or until edges are golden
Notes
Nutrition: 1 out of 24 bars
Calories: 100, Protein: 2.8g, Carbs: 5.8g, Fat: 8.6g, Sat Fat: 3g, Sodium: 10mg, Fiber: 1.5g, Sugar: 0.8g, Net Carbs: 5g
By Sarah Ingredients Of A Fit Chick https://ingredientsofafitchick.com/