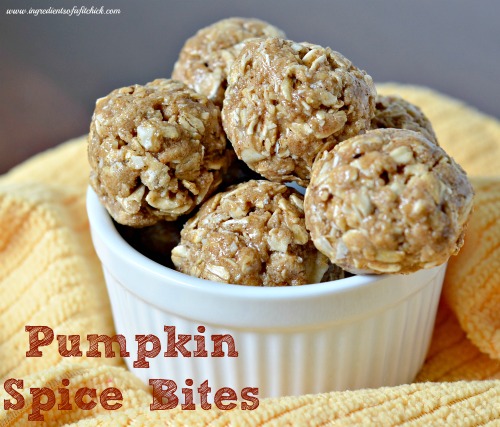 TGIF Friends!! I hope you had a great week! We are one week into November now! Does that mean I should really start working on making my holiday shopping lists? I can't even believe I am thinking about that! So, instead of that, why don't we all procrastinate and whip up a batch of these yummy Pumpkin Spice Bites instead! ? I hope you enjoy! Have an amazing weekend!! ?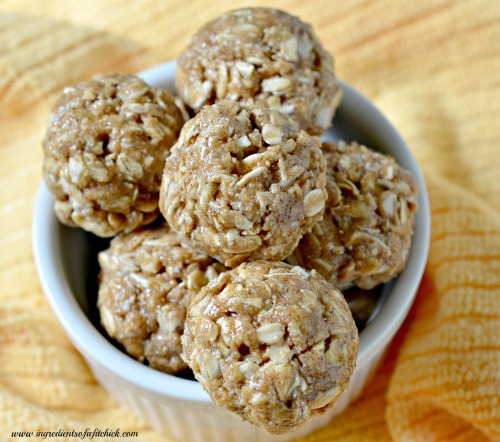 Pumpkin Spice Bites2014-09-07 14:38:02 Serves 12 A quick, protein packed recipe that is loaded with the delicious fall flavor of pumpkin! Write a review Save RecipePrint Prep Time 5 min Total Time 5 min Prep Time 5 min Total Time 5 min Ingredients
1 cup (80g) rolled oats (I used Bob's Red Mill Gluten Free)
1 scoop (40g) NutriForce Sports Vanilla Whey Protein
1/4 cup (56g) Nuts N More Pumpkin Spice Peanut Butter
2 tbs (42g) honey (or sweetener of choice)
Instructions
Mix all ingredients together
Roll into desired size bites
Eat! 🙂
Store in a sealed container in the refrigerator.
Notes
Nutrition: 1 out of 12 bites
Calories: 84, Protein: 5.3g, Carbs: 9.1g, Fat:3.1g, Saturated Fat: 0.4g, Sodium: 10mg, Fiber: 1.5g, Sugar: 3.8g, Net Carbs: 7.6g
By Sarah Ingredients Of A Fit Chick https://ingredientsofafitchick.com/