Cherry, Pistachio & SizzleFish Salmon Quinoa Salad
The latest video is up everyone! This quick, easy and super healthy dish is loaded with both flavor and color! Cherry, Pistachio & Salmon Quinoa Salad2014-10-22 19:50:55 Serves 1 This quick salad puts together my love of both sweet and savory to create a super healthy dish! Write a review Save RecipePrint Prep Time 5 min Total Time 5 min Prep Time 5 min Total Time 5 min Ingredients
3-4 oz cooked SizzleFish Salmon
1/2 cup cooked quinoa
1-2 tbs chopped dried cherries
1-2 tbs lightly salted pistachios
Balsamic, to taste
Instructions
See video for full directions
Notes
Nutrition: 1/1 servings
Calories: 419, Protein: 30.6g, Carbs: 38g, Fat: 11.4g
By Sarah Ingredients Of A Fit Chick https://ingredientsofafitchick.com/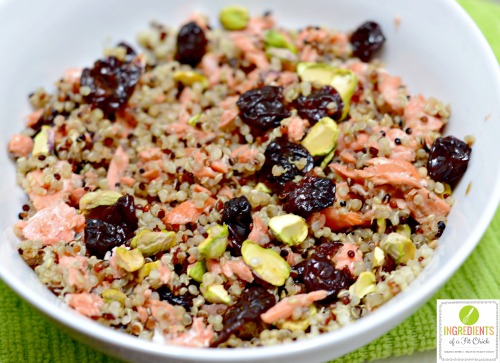 To purchase SizzleFish you can head to their website:
Let me know what sizzlin' SizzleFish dshes you create! ?