TGIF Friends!! I hope you had a great week! It is amazing how quickly the days fly by! Can you believe we are already half way through October? Amazing! I thought this recipe would be the perfect, sweet and comforting way to end the week! Well, because what is better on a cool fall morning than some baked oatmeal topped with creamy peanut butter and chocolate chips?! I hope you had a great weekend!!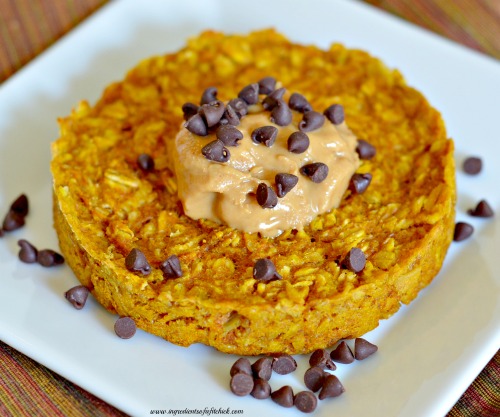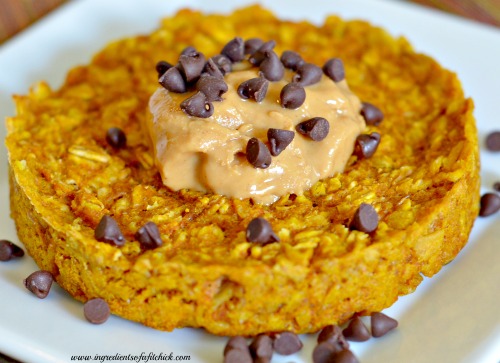 Baked Pumpkin Spice Oatmeal with PB & Chocolate Chips 2014-08-27 10:09:39 Serves 1 A quick, fall inspired breakfast that is healthy and loaded with fiber, protein AND flavor! Write a review Save RecipePrint Prep Time 5 min Cook Time 30 min Total Time 35 min Prep Time 5 min Cook Time 30 min Total Time 35 min Ingredients
1/2 cup (20g) oats
1.5 tsp (3g) ground flax
1 tsp pumpkin pie spice
1/2 tsp baking powder
pinch salt, optional
1/4 cup (61g) pumpkin (not pie filling)
2 tbs milk or choice
1/2 tsp pure vanilla extract
Toppings
1 tbs (16g) Nuts N More PB
1/2 tbs (7g) Chocolate Chips
Instructions
Preheat oven to 350 degrees
Coat a oven safe baking dish with non stick spray (I used 6-in ramekin)
Mix together all ingredients except for toppings
Pour batter into dish
Bake for ~30 minutes or until set
Top with PB and chocolate chips
Notes
Nutrition: 1 out of 1 servings
Calories: 332, Protein: 15.3g, Carbs: 43.2g, Fat: 12.4g, Saturated Fat: 2.4g, Sodium: 20mg, Fiber: 12.3g, Sugar: 7.7g, Net Carbs: 31.9g
By Sarah Ingredients Of A Fit Chick https://ingredientsofafitchick.com/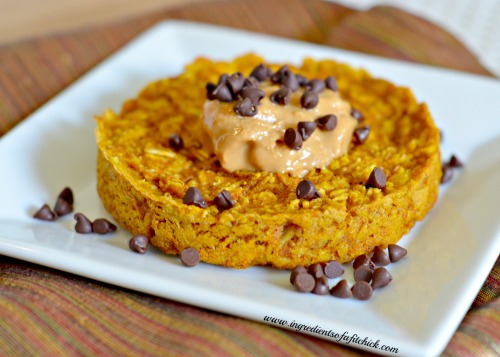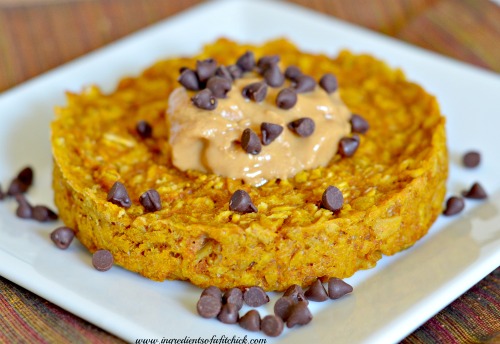 *Do you make baked oatmeal when it gets cooler?
*What is your favorite cool morning breakfast?