Happy Monday! I hope you had a great weekend! I thought we would kick off this Monday with a delicious and healthy, sweet treat! Because, let's face it, who doesn't love cupcakes?! These little beauties are so healthy you could even eat them for breakfast! They also make a great treat to pack for work or school!
I hope you enjoy them! Have a great start to your week!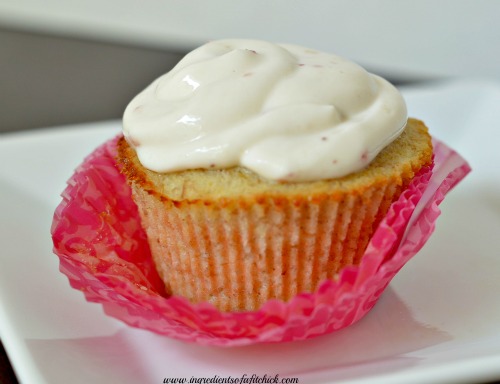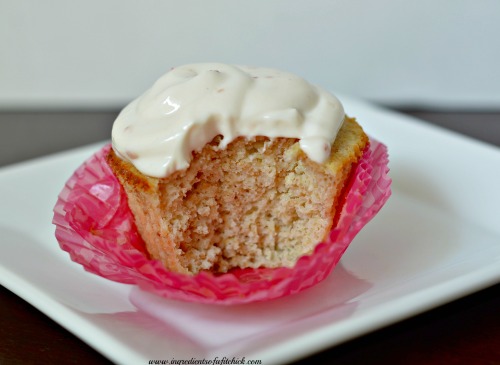 Almond Cupcakes with Strawberry Frosting2014-07-24 07:57:07 Serves 2 This single serving cupcake recipe comes in at only 206 calories and 16g of protein! Eating healthy and enjoying dessert never tasted better! Write a review Save RecipePrint Prep Time 20 min Cook Time 20 min Total Time 40 min Prep Time 20 min Cook Time 20 min Total Time 40 min Ingredients
Cupcake
6 tbs (42g) almond flour
1 tsp baking powder
2 tbs (13g) ground flax
1 1/2 tbs dry sweetener of choice
1/4 c (60g) liquid egg whites
1 tsp pure almond extract
Frosting
1/4 cup (56g) greek yogurt
1/3 scoop (13g) NutriForce strawberry whey protein powder
Instructions
Pre heat oven to 350 degrees
Line 2 cupcake molds with cupcake liners
Combine dry cupcake ingredients
Mix wet ingredients (egg whites and almond extract) into dry ingredients
Divide batter evenly among 2 molds
Bake for about 18-20 minutes (cupcakes will seem a bit soft but they will continue to set as they cool)
Mix together greek yogurt and strawberry protein powder
Frost each cupcake with half of greek yogurt 'frosting'
Serve
Notes
Nutrition: 1 out of 2 cupcakes
Calories: 206, Protein: 15.9g, Carbs: 8.5g, Fat: 13.2g, Saturated Fat: 0.9g, Sodium: 77mg, Fiber: 4.3g, Sugar: 2.3g, Net Carbs: 4.2g
By Sarah Ingredients Of A Fit Chick https://ingredientsofafitchick.com/