Happy Monday! I hope you had a great weekend! Can you believe that we are already into the month of August?! Where has the summer gone! I guess time really does fly when you are busy and having fun! ?
Today I am sharing with you a recipe that is sure to make your taste buds sing! Who doesn't love the combination of bananas and coconut! It brings me right back to a tropical island! I hope you enjoy! Have a fabulous Monday!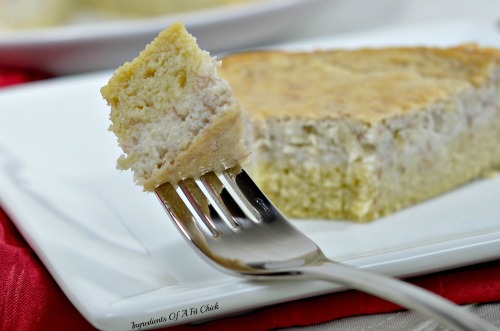 Banana Coconut Cream Pie2014-05-25 17:28:09 Serves 6 A sweet, tropical pie that is sure to tantalize your taste buds! Write a review Save RecipePrint Prep Time 30 min Cook Time 1 hr 20 min Total Time 1 hr 50 min Prep Time 30 min Cook Time 1 hr 20 min Total Time 1 hr 50 min Ingredients
BASE
5 tbs (35g) coconut flour
2 large eggs
2 tbs (28g) coconut oil, melted
1 tbs maple syrup
FILLING
1c coconut cream
1 large banana (130g)
3 tbs (46g) liquid eggwhites
1 tsp vanilla extract
1/4 tsp coconut extract
sweetener, optional (depending on how sweet your banana is)
Instructions
Preheat oven to 325 degrees
Spray a 6in spring form pan with non stick spray
Whisk together your base ingredients (except coconut flour)
Stir in coconut flour and allow to sit for 5 minutes
Pour base into pan
Combine all filling ingredients in a blender
Pour filling over base
Bake for ~ 1 hour and 20 minutes or until edges are slightly golden and set.
Remove from the oven and allow to cool (it will continue to set at this point)
Refrigerate for 2+ hours before slicing
Notes
Nutrition: 1 out of 6 slices
Calories: 201, Protein: 5g, Carbs: 10.7g, Fat: 15.3g, Saturated Fat: 13g, Sodium: 66mg, Fiber: 2.7g, Net Carbs: 8g, Sugar: 4g
By Sarah Ingredients Of A Fit Chick https://ingredientsofafitchick.com/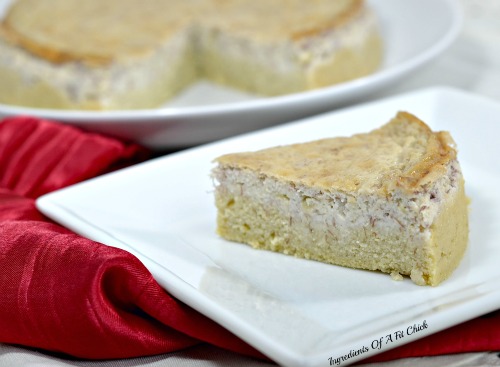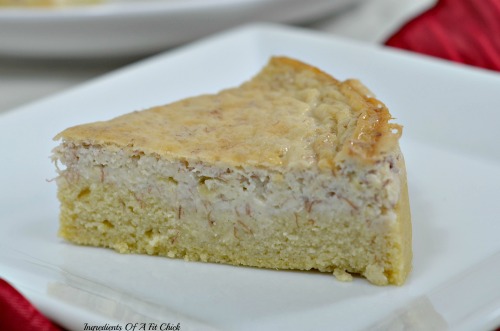 *Did you do anything fun over the weekend?
*What is your favorite tropical fruit?
*Do you have any exciting vacations set up for the month of August?