Happy Monday! I hope you had a great weekend! We had another weekend full of sunshine and warm weather! After such a cold and snowy winter it is so nice to be getting so much warmth! I wish it could be like this all year round! For those of you who follow me on social media, you have seen that I have teamed up with both NutriForce Sports and Muscle and Strength to bring you delicious recipes and calorie burning workouts that you can do anywhere! Several of my recipes including  this one have been featured HERE ! This workout was also featured HERE on the website too! It is very exciting and I am truly honored to be part of such a great team!
Today, I am sharing with you this delicious recipe that was also featured on Muscle and Strength! These delicious muffins come in at only 146 calories a piece and satisfy any chocolate craving! Head over HERE to get the full details on the recipe!
Also, be sure to leave a comment on the site to let me know how you like them! Have a great Monday friends!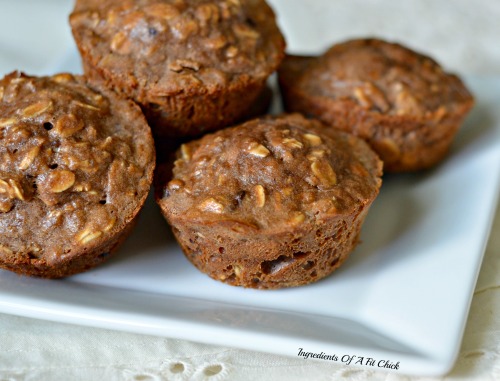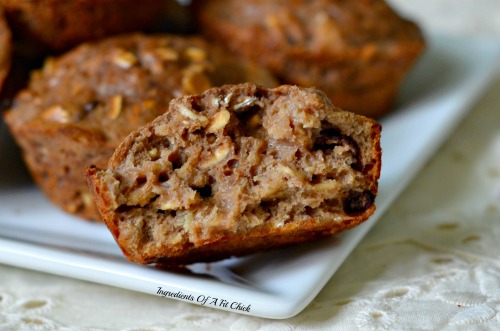 Chocolate Banana Oat Protein Muffins2014-07-20 14:22:57 Serves 9 Get in your chocolate fix without feeling guilty. This healthy, high protein snack recipe makes 9 sinfully delicious muffins that feature only 146 calories each Write a review Save RecipePrint Prep Time 10 min Cook Time 15 min Total Time 25 min Prep Time 10 min Cook Time 15 min Total Time 25 min Ingredients
1.5 scoops (60g) NutriForce Chocolate Whey Protein Powder
1c + 2tbs (100g) rolled oats
1/3c + 4tsp (50g) oat flour
1 tsp baking powder
2 tbs powdered stevia (or dry sweetener of choice)
Pinch salt
2 small bananas, mashed (185g)
1 large egg
2 tbs (28g) coconut oil, melted
1 tsp pure vanilla extract
Instructions
Head over to www.muscleandstrength.com to get the directions on how to make this yummy recipe!!
Notes
Nutrition: ( 1 out of 9 muffins)
Calories: 146, Protein: 7.4g, Carbs: 17.2g, Fat: 5.6g, Saturated Fat: 3.5g, Sodium: 26mg, Fiber: 2.4g, Sugar: 3.9g, Net Carbs: 14.8g
By Sarah Ingredients Of A Fit Chick https://ingredientsofafitchick.com/