NutriForce Sports Giveaway!!!
Happy Monday Friends!!! I hope you had a great weekend!! Today, I have something VERY exciting for you all!! A couple weeks ago the amazing team at NutriForce Sports sent me this awesome box full of goodies to try out! I was blown away when I received the box! It had all of these awesome supplements, plus 2 t-shirts and a box of stuff for all of YOU!! 2lbs of each of their whey protein in Alpine Strawberry, Belgiun Chocolate, Vanilla and Cafe Cream!! Can we even talk about how the strawberry has real freeze dried strawberries in it, the Belgiun chocolate has real chocolate curls, the vanilla has real white chocolate curls and the cafe cream (my favorite) has real coffee granules! I was in heaven!! But not only does it taste amazing, it is 100% natural too! This is the nutritional information for the Belgiun Chocolate! All nutritional stats are fairly similar too!
They also sent me samples to make sure my workouts were STACKED!!! Preworkout – This stuff gave me an AWESOME pump for my workout! I was lifting 'beast mode'! haha Preworkout (caffeine free) – This one was great too, but I have been (and probably always will be) a lover of my caffeine filled preworkouts!! But for all my friends who don't need it, this is perfect! Postworkout BCAA's – which tasted amazing! It was fruit punch flavor so I mixed it up with lots of ice and it was sooo refreshing! Beta Alanine – Which was amazing! I have been using Beta Alanine for years and this was perfect for both my lifting sessions and my long weekend runs! I just mix it in with the preworkout and off I went! Creatine – I do not personally use creatine, but of course I had to give it a go and it definitely made my workouts better!! I was lifting heavier and it felt AWESOME!! Glutamine – I can't live without my glutamine! I mixed this with my BCAA's and it was perfect! (I actually enjoy sipping on that combination throughout the day too! Especially when it's hot!) Balanced Hydration — Ok, now THIS STUFF is amazing!! They sent me both Coconut Pineapple and Citrus flavor! Both tasted awesome but the Coconut Pineapple was to-do-for!!! I have always had a tendency to get dehydrate during my workouts in the summer months (despite drinking) and this stuff was perfect! I had 2 servings a day and it kept my energy levels up (because I wasn't dehydrated), which made my workouts so much better! This has got to be one of my all time favorite new supplements! For all my endurance athletes out, there…go get this now!!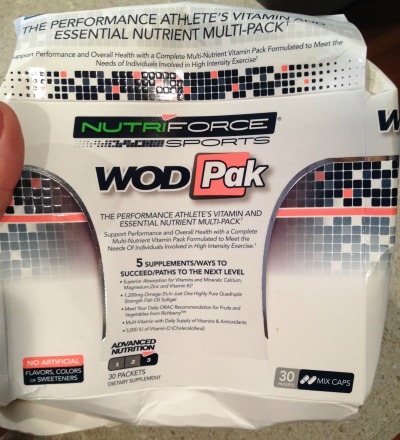 They also sent me the WOD Pak which is individual packs of vitamins! Each pack contains 1 Multi Nutrient (vitamin), 1 OmegFort (fish oil), 1 Vitamin D3, 1 Mineral (Vitamin K, Calcium, Magnesium, Zinc) and 1 Richberry (helps get in those servings of fruits/veggie nutrients).
There are no sugars, starches, dairy or artificial colors in any of these! It was perfect because I could throw a pack in my gym bag (or purse) and go! I didn't have to worry about 5 different supplement bottles because they were prepackaged for me! Lastly, I received om3gafort, which is 1200mg of Omega-3! I have been taking an omega-3 for years, so this was perfect! I notice a difference in both my old achy hips/joints and skin when I am not taking it! And of course, a picture of my awesome t-shirt last Sunday on my sunny walk and my post workout NUtriForce Whey protein pancake! #neverquit
**THE BEST** part about all of these supplements is that they are 100% all natural with no artificial flavors, colors or sweeteners and they STILL taste great! Such a huge win!! 🙂
So, now I bet you are all wondering how this makes it a GREAT DAY FOR YOU, right?! Well the amazing team at NutriForce Sports has decided that they want YOU, my amazing Ingredients Of A Fit Chick Followers to try these products for yourselves! And there is an opportunity for SIX (6), yes SIX of you to win!!
The Grand Prize Winner (1)
will receive a 2lb jug of NutriWhey (flavor of choice) plus the WOD pack and my favorite Balance Hydration in Coconut Pineapple!!

Five (5) Runners Up
will receive samples of all 4 flavors of NutriWhey!!
So, how do you win?!
Here's How To Play!
1) Follow Ingredients Of A Fit Chick and NutriForce Sports on Instagram
2) Follow Ingredients Of A Fit Chick, NutriForce Sports and Muscle and Strength on Twitter
3) Follow   Ingredients Of A Fit Chick,  NutriForce Sports and  Muscle and Strength on Facebook
4) Repost this picture on FB, IG or Twitter and make sure you tag all 3 brands! NutriForce Sports, Muscle & Strength and Ingredients Of A Fit Chick!! You are welcome to post this picture as many times as you'd like during the contest! Each post will count as 1 entry!
5) Tweet, "I want to win #proteinpowder from @nfsports_ , @muscle_strength and @fitchick428 giveaway!"
The Most Important Part……
Make sure to leave a separate comment below with each entry!
The contest will run from 7:00am EST on Monday June 30th 2014 until 11:59pm EST on Sunday July 6th 2014!
It is open to US residents only! 
*****For all of you who want to try the products early…..
You can head over HERE and get 10% off your order with the promo code:
FITCHICK10*****
 They have some AWESOME deals going on and the 10% off on top of those make them a STEAL!