Happy Friday! I hope you had a great week! Per usual mine was busy but in a great way! I have been working on some exciting things coming for you soon! Stay Tuned!! This weekend is supposed to be gorgeous, so I hope you are all able to take a few minutes to grab some sunshine! After being inside most of the week, it is nice to feel the sun on my skin! I am also going to a restorative yoga workshop tomorrow, so I will report back on how it was! That stretching and relaxation always makes my body feel amazing after a week of intense lifting!
I hope you enjoy today's 'ooey gooey' breakfast recipe! It would make the perfect recipe for this Sunday's brunch! Have a great weekend!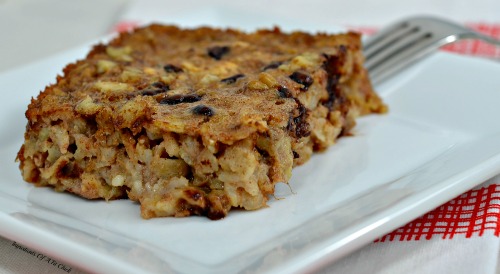 Ooey Gooey Baked Banana Chocolate Chip Oatmeal2014-05-25 17:40:55 Serves 6 A warm, sweet and gooey breakfast treat! This recipe is the perfect addition to any brunch! Write a review Save RecipePrint Prep Time 15 min Cook Time 1 hr Total Time 1 hr 15 min Prep Time 15 min Cook Time 1 hr Total Time 1 hr 15 min Ingredients
1c (80g) oats (I used gluten free)
1/4c dry sweetener of choice
1 tsp ground cinnamon
1 tsp baking powder
pinch salt, optional
1c coconut milk
1 large egg
2 large bananas (260g)
1 tsp pure vanilla extract
2.5tbs (35g) mini chocolate chips
1/3c chopped walnuts, divide 1/4c + 1tbs
Instructions
Preheat oven to 375 degrees
Line a 4×6 in baking pan with parchment
Whisk together dry ingredients (except nuts and chocolate chips)
Add wet ingredients to a blend and mix well
Add wet ingredients to dry ingredients
Stir in chocolate chips and walnuts
Pour batter into pan and sprinkle remaining 1tbs walnuts on top
Bake for ~ 1 hour or until edges are golden.
Serve immediately for an ooey gooey texture.
I also loved it refrigerated and served room temperature the next day!
Notes
Nutrition: 1 out of 6 squares (these are BIG squares too!)
Calories: 205, Protein: 4.8g, Carbs: 26.7g, Fat: 10.1g, Saturated Fat: 3.6g, Sodium: 26mg, Fiber: 3.5g, Net Carbs: 23.2g, Sugar: 11g
By Sarah Ingredients Of A Fit Chick https://ingredientsofafitchick.com/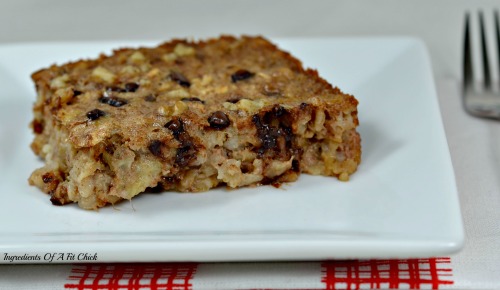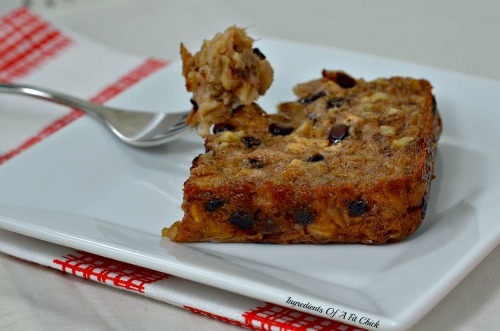 *What are you doing over the weekend?
*Do you stretch regularly?
*What is your favorite brunch recipe?