Happy Monday! I hope you had a great weekend! Mine was busy, but full of sunshine and fun as well!! Having a little bit of balance of both is so nice! Today's recipe is one that I am very excited to share with you! I announced on Friday that I will be partnering with NutriForce Sports to bring you guys lots of yummy, protein packed recipes!! I also have some samples that I will be giving away, so keep your eyes peeled!! But in the mean time, I hope you enjoy this recipe!
If you'd like to get your hands on some of this delicious protein powder head over to www.nutriforcesports.com and use my promo code for you guys: FITCHICK10 to receive 10% off! (I highly recommend the coffee flavor— it's AMAZING!!)
Have a great Monday!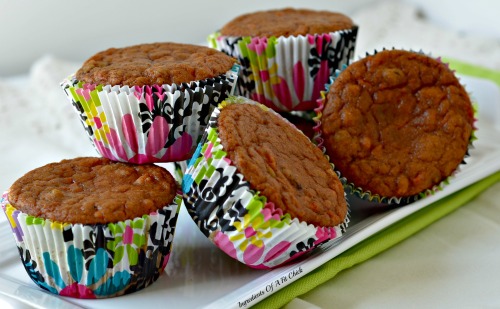 Carrot Cake Protein Muffins2014-04-09 15:35:49 Serves 8 A sweet, protein packed way to start your day! Write a review Save RecipePrint Prep Time 10 min Cook Time 26 min Total Time 36 min Prep Time 10 min Cook Time 26 min Total Time 36 min Ingredients
1 1/3 scoop (38g) vanilla whey protein powder ( I used NutriForce NutriWhey)
1/4c (28g) coconut flour
1/4c (40g) coconut sugar (or sweetener of choice)
1 tsp baking powder
1.5 tsp ground cinnamon
1/2 tsp nutmeg
1/2c (130g) liquid egg whites
1/2c (113g) greek yogurt
1 tsp pure vanilla extract
1/2c (170g) shredded carrots
1/4c (28g) chopped walnuts, optional
1/4c (40g) raisins, optional
Instructions
Preheat oven to 350 degrees
Line 8 cupcake molds with paper liners (or coat very well with nonstick spray)
Whisk together dry ingredients
Mix together wet ingredients
Combine wet and dry ingredients
Fold in carrots, walnuts and raisins
Divide batter evenly among 8 muffin cups
Bake for 25-28 minutes or until set
Top with cream cheese, if desired
Notes
Nutrition: 1 out of 8 muffins WITH walnuts and raisins
Calories: 112, Protein: 7.6g, Carbs: 13.8g, Fat: 3.3g, Saturated Fat: 1g, Sodium: 72mg, Fiber: 2.5g, Net Carbs: 11.3g, Sugar: 8.6g
By Sarah Ingredients Of A Fit Chick https://ingredientsofafitchick.com/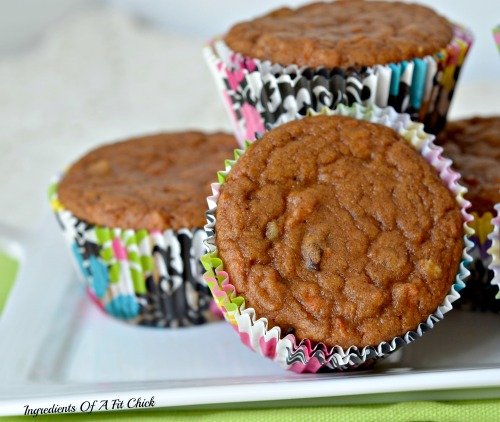 *What did you do over the weekend?
*Have you tried any NutriForce Sports products before?
*What is your favorite protein powder flavor?