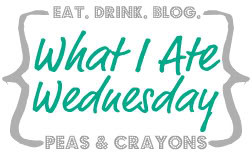 WHAT I ATE WEDNESDAY — I'M BACK!!
Happy Wednesday! I know, you are all shocked to see a WIAW post, right?! It's been forever since I have participated in this foodie fun! But, I have had so many requests for me to start sharing again that I figured, why not?! Sooooo……per YOUR request, my meal sharing is back! I hope you enjoy!

Meal #1 Post workout protein pancakes!! Yummy!

Meal #2 Ahi tuna, avocado and tomato sandwich!! AMAZING! Ahi is the best!
Meal #3 Lemon pepper cod tenderloin with oven roasted kale and summer squash (cooked in ghee)
Meal #4 Sometimes (or all the time) you just want BRINNER!!! 3 eggs topped with swiss, oven roasted brussels sprouts, 2 sausages and 2 slices gluten free toast
Meal #5 Yes, yes!! DESSERT! A french vanilla power crunch bar topped with SweetSpreads Chocolate Brownie Coconut Butter and some Fat Free CoolWhip on the side!
Today's meals made me VERY VERY VERY happy!

**************************************************************************************
*What was your favorite meal yesterday?
*Do you enjoy brinner?
*Most importantly, have you joined the WIAW party yet?
As always, a big THANK YOU to Jenn for hosting this weekly food fest!