Happy Monday! I hope you had a great weekend! My weekend was full of adventure as I spent all day Friday at the Crossfit Games at the Reebok Headquarters in Canton, MA! So fun! I will be doing a whole post with the excitement of the day later this week!
But before we get to that, I have something exciting for YOU today! A few weeks ago, Mama Mel from SweetSpreads sent me a box of her delicious coconut butters to try and play with in some recipes! Of course, before the recipe testing, I had to just stick my finger into each flavor and give them a try! They come in:
Don't those flavors sound AMAZING?! The Cinnamon Roll and Maple Pancake were my top 2 favorites…..soooo good that I didn't even save enough to create a recipe with because I ate it all straight from the jar! Ooops! ?
But I did manage to save some of the Chocolate Brownie for this recipe and some of the Vanilla Cupcake for another recipe that will be coming soon! So, watch out!
These coconut butters are also all natural made with only coconut flakes, coconut oil, raw pecans, vanilla extract, cane sugar and then the different flavors for each! The nutritional stats are amazing too! One Tablespoon is:
120 calories
10g Fat (MCT form)
6g Carbs
2g Fiber
3g Sugar
1g Protein
Pretty awesome, huh?!
So, I bet you are wondering how this is a treat for you, right? Scroll down to the bottom and get ALL the details!!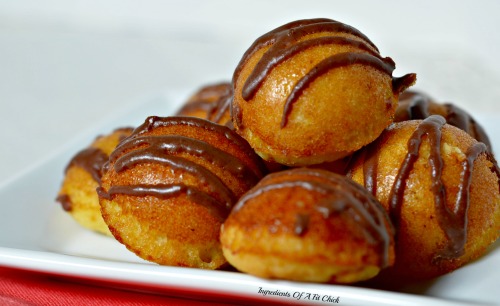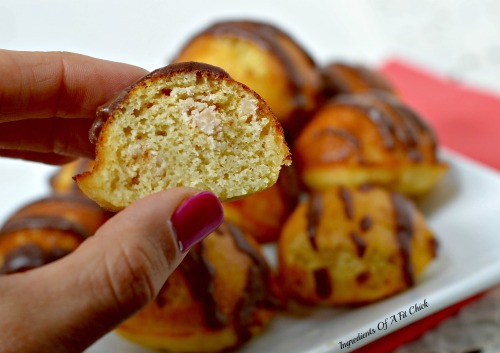 Chocolate Brownie Frosted Donut Holes2014-05-30 08:31:53 Serves 18 A sweet, yet healthy treat to start off your day! Write a review Save RecipePrint Prep Time 15 min Cook Time 12 min Total Time 27 min Prep Time 15 min Cook Time 12 min Total Time 27 min Ingredients
3 large eggs
1/4 c (56g) coconut oil, melted
1/4c honey/coconut sugar/agave
1 tsp baking powder
1/4c (28g) coconut flour
2tbs (28g) Sweet Spreads Chocolate Brownie Coconut Butter
Instructions
Preheat oven to 350 degrees
Whisk together eggs, melted coconut oil and sweetener
Slowly add in your coconut flour and baking powder
Mix well
Spray your donut hole pan with non stick spray or coat with coconut oil
Evenly divide batter among 18 holes
Bake for ~12 minutes or until set
Allow to cool
Melt your chocolate brownie coconut butter in the microwave (or over double boiler)
Drizzle coconut butter over donut holes
Allow coconut butter to set
EAT! 🙂
Notes
Nutrition: for 1 out of 18
Calories: 71, Protein: 1.5g, Carbs: 4.7g, Fat: 5.3g, Saturated Fat: 4.3g, Sodium: 176mg, Fiber: 2g, Net Carbs: 2.7g, Sugar: 1g
By Sarah Ingredients Of A Fit Chick https://ingredientsofafitchick.com/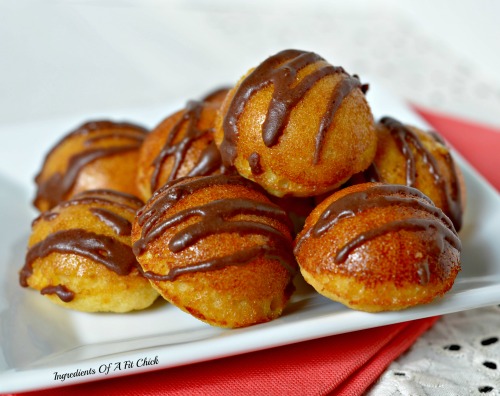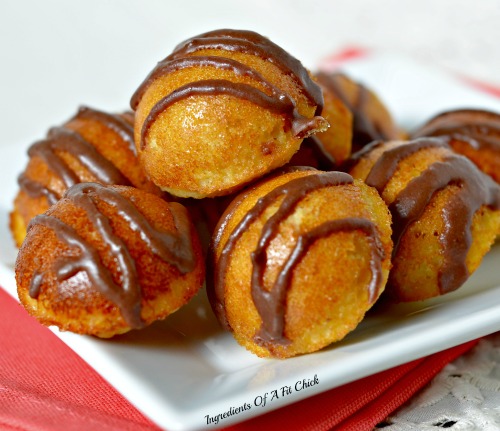 IT'S A GIVEAWAY FOR YOU!!! Yes, that's right guys and girls! Mama Mel has been so sweet as to offer to give one reader a box of each of the 6 flavors! How cool is she?! So here is how you play!
 1) Follow Both @sweetspreads and @fitchick428 on instagram
2) Follow Both @sweetspreads and @fitchick428 on twitter
3) Follow Both @sweetspreads and @fitchick428 on Facebook
4) Repost this recipe on Twitter or Instagram tagging both @sweetspreads and @fitchick428
5) Leave a comment below with what other flavors you would like to see Mama Mel create!
Make sure to leave a separate comment below for EACH entry! The contest will run from 7:00am EST on Monday June 2nd 2014 through 11:59pm EST on Friday June 6th 2014.
GOOD LUCK….AND LET THE GAMES BEGIN!! And for those of you who can't wait to try SweetSpreads you can head to the site HERE and use the promo code FitChick10 to receive 10% off you order! Yippee!!
**Contest Open To US Residents Only**