Happy Friday! I hope you had a fabulous week! Today's recipe is one that is VERY quick and was thrown together with some ingredients that needed to be used up before they went bad! I literally tossed all these items in a bowl and made these amazing quiche! They didn't even last me 2 days before they were ALL gone! When I say they are quick, easy AND taste yummy, I am not lying! ? I hope you have an amazing weekend!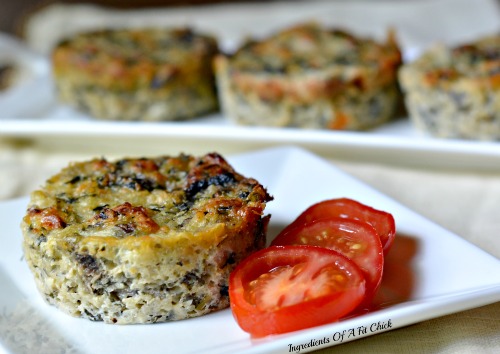 Baked Portobello, Spinach & Gouda Quiche2014-05-25 15:16:36
Serves 6 A quick, savory, low carb and protein packed dish! Write a review Save RecipePrint Prep Time 10 min Cook Time Total Time 50 min Prep Time 10 min Cook Time 40 min Total Time 50 min Ingredients
3 large eggs
15oz no salt cottage cheese
1c (112g) shredded gouda (or cheese of choice)
5oz frozen spinach, thawed
4.5oz portobello mushrooms, diced (I used 2 large caps)
1tbs Frontier Veggie Pepper seasoning, optional
Instructions
Pre heat oven to 375 degrees.
Spray 6 large muffin cups with non stick spray.
Mix together all ingredients.
Evenly divide mixture among 6 muffin cups.
Bake for ~40 minutes or until golden.
Allow to cool before removing (they will continue to set)
Serve as desired.
*I actually enjoyed them more the next day, at room temperature!
Notes
Nutrition: 1 out of 6 quiche
Calories: 170, Protein: 19.1g, Carbs: 4.7g, Fat: 8.9g, Saturated Fat: 4.7g, Sodium: 210mg, Fiber: 1g, Net Carbs: 3.7g, Sugar: 3.2g
By Sarah Ingredients Of A Fit Chick https://ingredientsofafitchick.com/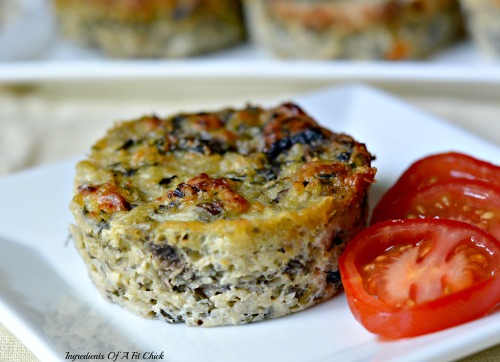 *How do you use up food about to go bad?
*What is the last "throw together" recipe you made?
*What is your favorite way to eat eggs?