 Happy Tuesday! I hope you had a great (long) weekend! Today's recipe is a bit different, if you will!  I had some left over cooked farro in my refrigerator that I wanted to use, but I needed a quick carbohydrate packed snack that I could take with me that day! (And of course, I wanted a SWEET snack) So, I whipped these up and they turned out delicious!!! You can sub the farro for brown rice or any grain you choose! I hope you enjoy! Have a great Tuesday! Cinnamon & Sugar Brown Rice Bites2014-03-24 10:33:23 Serves 18 A sweet, whole grain bite! Write a review Save RecipePrint Prep Time 40 min Total Time 40 min Prep Time 40 min Total Time 40 min Ingredients
2c brown rice (or farro/grain of choice), cooked
5 tbs coconut flour
2 scoops cinnamon protein powder (I used Cellucor)
1/4c milk
1 tbs honey
stevia to taste, optional
Cinnamon and 'Sugar' for rolling
Instructions
Combine all ingredients (except cinnamon and sugar) in a bowl.
Refrigerate for 30 minutes or until mixture begins to set a bit.
Remove and roll into balls.
Roll balls into cinnamon and sugar.
Store in a sealed container in the refrigerator.
Notes
Nutrition: 1 out of 18 bites
Calories: 50, Protein: 3.6g, Carbs: 7.6g, Fat: 0.6g,. Saturated Fat: 0g, Sodium: 22mg, Fiber: 1.5g, Net Carbs: 6.1g, Sugar: 1g
By Sarah Ingredients Of A Fit Chick https://ingredientsofafitchick.com/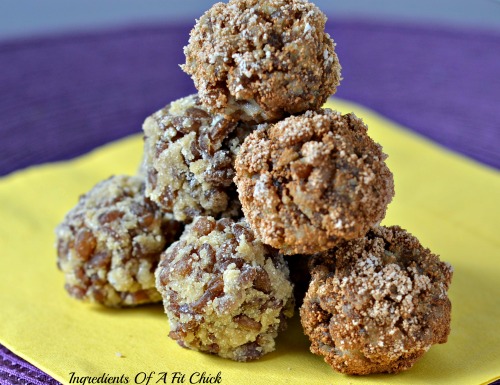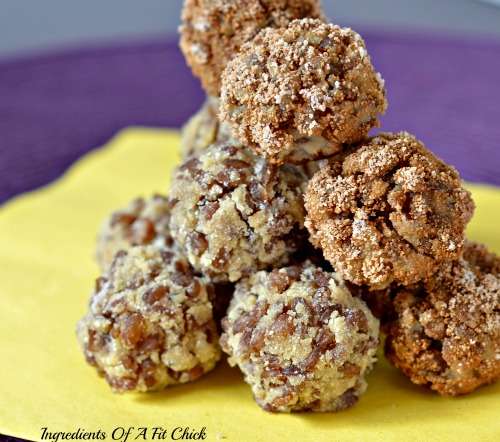 *Have you ever had farro?
*How do you use leftover grains?
*Have you ever made your grains sweet?