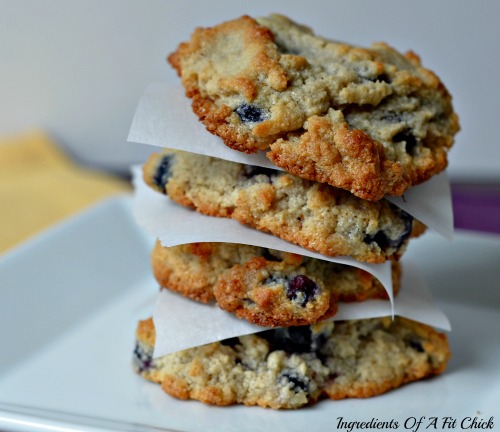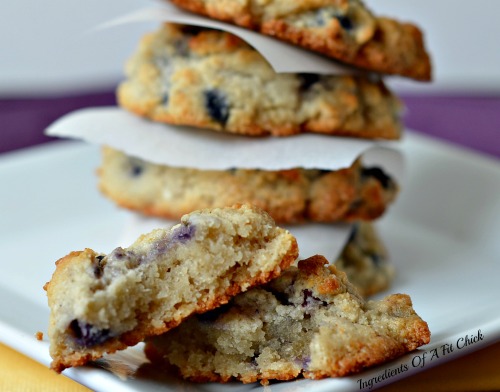 Happy Friday! I hope you had an amazing week! I was sifting through all the of the recipes in my que that are just waiting to be shared with you and couldn't believe that I still hadn't posted this one yet! It is definitely one of my favorites!! The blueberry and lemon flavors are bright and refreshing too…..perfect for the warmer weather! These cookies would make the perfect dessert for all of the upcoming Memorial Day festivities! I hope you enjoy! Have an amazing weekend! Blueberry Lemon Drop Cookies2014-03-24 11:00:40 Serves 8 A sweet and tangy cookie that is so soft it melts in your mouth! Write a review Save RecipePrint Prep Time 15 min Cook Time 10 min Total Time 25 min Prep Time 15 min Cook Time 10 min Total Time 25 min Ingredients
1c (112g) cashew flour (or nut flour of choice)
2 tbs (30g) coconut oil, melted
1 tbs (21g) honey
20 drops lemon stevia
1 tsp baking powder
1 1/2 tbs (23g) liquid egg whites
1/4 c wild blueberries (if frozen, thaw and rinse)
zest of 1 lemon
Instructions
Pre heat oven to 350 degrees.
Line a baking sheet with parchment paper.
Mix together all ingredients except blueberries and zest.
Gently fold in blueberries and lemon zest.
Divide batter evenly into 8 cookies
Bake for 10-12 minutes or until edges are golden.
Allow to cool before eating.*
*I actually found that they tasted better after storing them in the refrigerator for 1 day. The consistency and the flavor was perfect!
Notes
Nutrition: 1 out of 8 cookies
Calories: 122, Protein: 2.9g, Carbs: 6.7g, Fat: 9.6g, Saturated Fat: 4g, Sodium: 5mg, Fiber: 0.7g, Net Carbs: 6g, Sugar: 3.5g
By Sarah Ingredients Of A Fit Chick https://ingredientsofafitchick.com/ *What is your favorite kind of cookie?
*Do you prefer soft, chewy or crumbly cookies?
*Do you have any fun plans for the weekend?