 Happy Monday and HAPPY CINCO DE MAYO!! I know today is a big day of celebration for many…mostly in the form of alcohol, BUT I thought I would bring a little protein packed treat to the party instead! So, before you head out the door today and celebrate with a corona and lime ? make sure to grab a few of these to snack on while you're out! Have an amazing Monday! Enjoy!! Coconut Corfetti Botes2014-03-19 15:02:25 Serves 18 A sweet and delicious no bake, protein bite that makes a perfect snack! Write a review Save RecipePrint Prep Time 10 min Total Time 10 min Prep Time 10 min Total Time 10 min Ingredients
3 scoops Cellucor 'Corfetti' Protein Powder (or protein of choice) (102g)
3/4 c almond flour (84g)
2 tbs (14g) coconut flour
1 tsp baking soda
2 tbs (28g) coconut butter
1 tbs (21g) honey
1 tsp coconut extract
1 tsp stevia, optional
1/4 c coconut milk
Instructions
Whisk together your dry ingredients.
Add in your wet ingredients.
Mix until a dough forms.
Roll into desired size bites.
Refrigerate for 30 minutes or until set.
Store in a sealed container in the refrigerator until ready to eat.
Notes
Nutrition: 1 out of 18 bites
Calories: 67, Protein: 5.4g, Carbs: 3.3g, Fat: 3.7g, Saturated Fat: 1.3g, Sodium: 29mg, Fiber: 1.2g, Net Carbs: 2.1g, Sugar: 1.5g
By Sarah Ingredients Of A Fit Chick https://ingredientsofafitchick.com/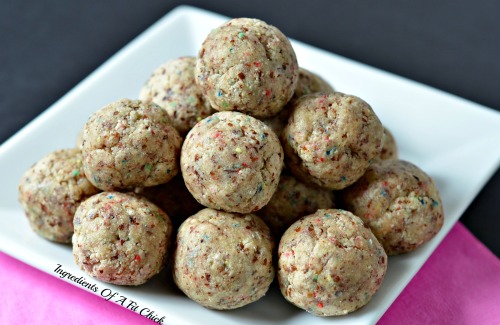 *Are you celebrating Cinco De Mayo?
*What is your favorite munchie while enjoying a cocktail?
*What is your favorite protein packed snack?