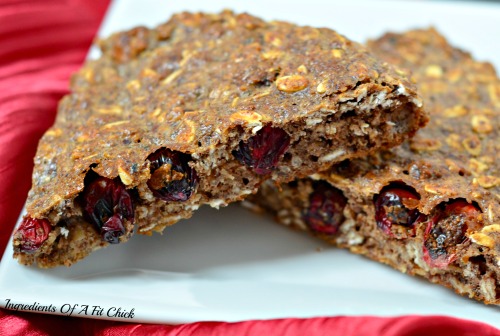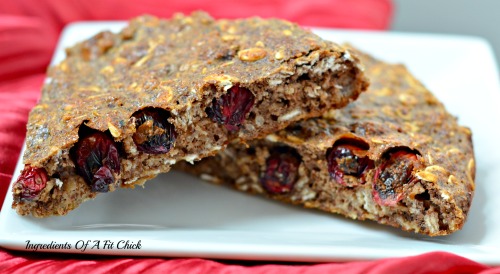 Happy Monday! I hope you had a great weekend! It was very wet here, but at least it is beginning to warm up! I'll take anything over snow! This week it is all about 'breakfast' recipes! My mornings have been a little crazy, so making sure I have some great and healthy recipes to grab on the way out the door has been critical! I hope you enjoy! Happy last day of March 2014….can you believe that?! Orange Cranberry Breakfast Bars2014-02-23 14:36:48 Serves 6 An easy and sweet recipe that will get your morning off to a great start! Write a review Save RecipePrint Prep Time 15 min Cook Time 20 min Total Time 35 min Prep Time 15 min Cook Time 20 min Total Time 35 min Ingredients
1c (80g) oats
1/2c (56g) pecan meal (or more oats)
1 scoop (30g) vanilla whey ( I used Optimum Nutrition brand)
1 tsp baking powder
2 large eggs
1 tbs (12g) coconut oil
2 tbs (62g) apple sauce
1 tsp pure vanilla extract
1/2 tsp orange extract
3-4 drops liquid stevia (or sweetener of choice)
1/4c cranberries (I used freeze dried ones from Trader Joe's)
Instructions
Pre heat owb to 350 degrees
Spray an 8in cake pan with non stick spray
Combine your dry ingredients
Mix together your wet ingredients
Combine your wet and dry ingredients
Fold in cranberries
Pour batter into pan
Bake for ~20 minutes or until set
Notes
Nutrition: 1 out of 6 bars
Calories: 194, Protein: 9g, Carbs: 14.7g, Fat: 11.8g, Saturated Fat: 3.3g, Sodium: 46mg, Fiber: 2.6g, Net Carbs: 12.1g, Sugar: 4g
By Sarah Ingredients Of A Fit Chick https://ingredientsofafitchick.com/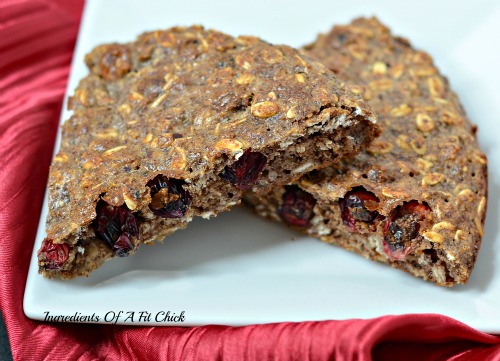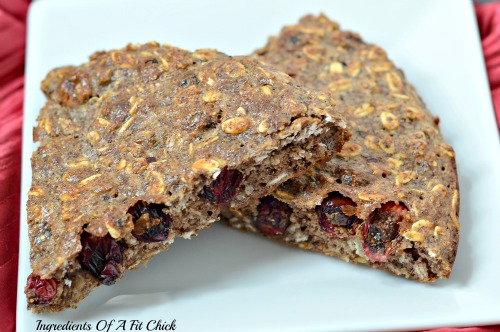 *What is your 'go to' quick breakfast meal?
*How are you finishing off this month? Great workout? Healthy meals?
*What is the most recent song you added to your playlist? (Mine is in desperate need of updating!)