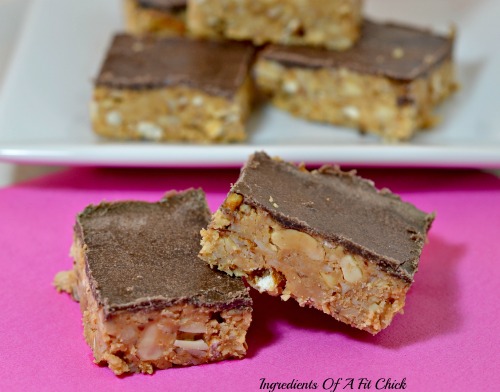 Happy Friday! I hope you had an amazing week! I thought we would end the first full week of spring with a healthy treat that feels more like an indulgence! The salty and sweet combination is just out of this world! And peanut butter and chocolate……who doesn't love that! I hope you enjoy these! Have a great weekend! Chocolate Peanut Butter Pretzel Bars2014-02-09 13:20:28 Serves 24 A healthy, no bake dessert that is packed with protein! Write a review Save RecipePrint Prep Time 10 min Total Time 40 min Prep Time 10 min Total Time 40 min BOTTOM
1c Nuts N More Peanut Butter
1c peanuts
1c almonds
1/2 c pretzels
2 tbs honey
TOP
1/4c coconut oil
1 scoop chocolate protein powder
1.5tsp dark chocolate cocoa powder, optional
1/4c dry sweetener of choice, optional
Instructions
Put peanut butter, peanuts, almonds, pretzels and honey in a food processor.
Pulse until combined.
Remove 'dough' and press into an 8x8in pan.
Combine melted coconut oil, protein powder, sweetener and cocoa powder.
Spread over top of 'dough.'
Freeze for 20 minutes.
Slice into desired size bars.
Store in refrigerator or freezer.
Notes
Nutrition: 1 out of 24 bars (easily can make 30 bars)
Calories: 159, Protein: 7.8g, Carbs: 7.9g, Fat: 11.2g, Saturated Fat: 2.9g, Sodium: 38mg, Fiber: 3g, Sugar: 2g, Net Carbs: 4.9g
By Sarah Ingredients Of A Fit Chick https://ingredientsofafitchick.com/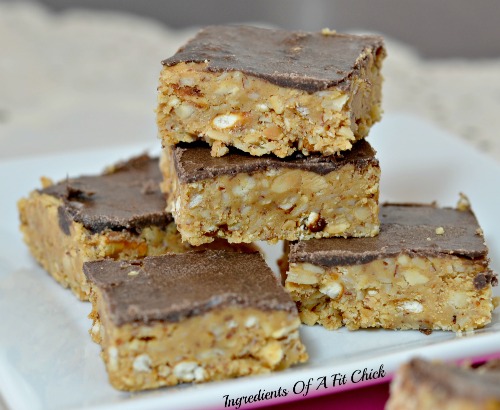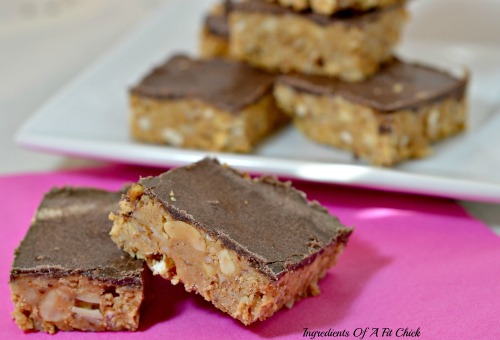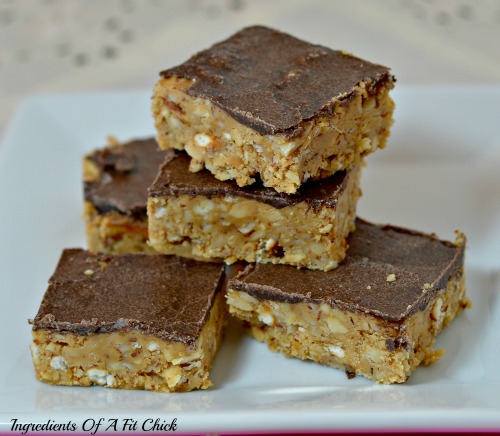 *What is your favorite salty/sweet combination?
*Do you have any plans for the warmer weather?
*What is your favorite bar recipe?