JAVAPRO Review
**The following post is sponsored by FitFluential LLC on behalf of JAVAPRO**
Happy Monday! I hope you had a great weekend!! Today I have an amazing new product to share with you!
I was so excited when FitFluential chose me to review the new JAVAPRO Whey protein powder! You all know how much I love to try different brands and flavors! It makes not only my post workout shakes more fun, but also gives my recipes an extra protein boost!

When the box arrived I was thrilled to have received the MOCHA flavor since that was definitely one of my top flavor choices! I love anything mocha! It also comes in other delicious flavors like Latte, Caramel, Hazelnut, French Vanilla and Espresso! All of those are actually amazing flavors now that I am looking at it!

So what exactly IS JAVAPRO? It is a new blend of whey protein combined with real coffee! It is designed to get you the protein you need with an extra 'pick me up' from the caffeine! It contains 20g of protein and 80mg of caffeine in one scoop….all for 110 calories! Check out the nutrition stats! They are pretty amazing!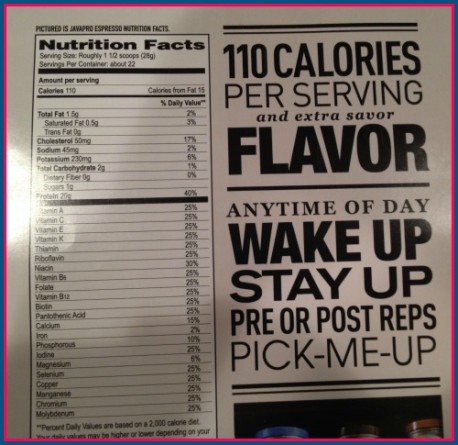 I love how low the sodium is. Many protein powders out now have a really high sodium content! It is also really clean and not loaded with fillers. Main ingredients are whey and coffee! LOVE THAT!
So the BIG question is, how did it taste?! Well, I wanted to try it as soon as it arrived, but it came at 6:30pm, so I held off until the next morning. (I would have been up all night had I drank it then! haha) So of course, the next day I put it in my post workout shake……..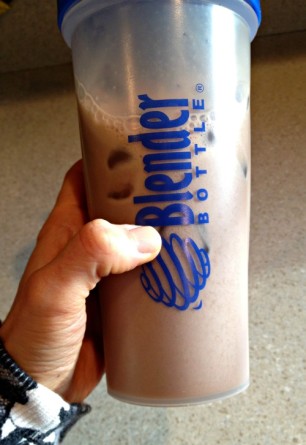 It was a GOOD thing that I held off until the morning because that caffeine gave me such an energy boost!!! I was powered up for the rest of the DAY!!! But not only did it keep me energized, it also tasted AWESOME! I mixed it with almond milk, added some ice cubes and shook it up! It was just like a "mocha"! It wasn't overly sweet and was thick and creamy, but not heavy!
I also added it to my oats one day and it gave them such an amazing flavor! I topped it with a sliced banana and it was perfect! I am already thinking of a few recipes to include it in! How amazing will that be?! Protein AND caffeine infused recipes! Now, THAT is a double win!

So, for all my coffee and protein lovers out there, I suggest you definitely pick this one up! It is a double bang for your buck!!

It is made by IsoPure, which carries a huge line of protein!
Also, make sure to head over to the Isopure Facebook Page here!
*Have you tried JAVAPRO?
*What flavor sounds best to you?
*Do you drink coffee in the morning with your protein? (I used to add some espresso into mine…..not anymore! )