Happy Friday! I hope you had an amazing week! I thought we would end Friday on a sweet note! Who doesn't love chocolate? Especially when it's double chocolate?! I know I do!! The cookies are soft, flavorful and sure to satisfy the biggest of chocolate cravings! I hope you enjoy! Have a great weekend! Make sure to take some time to relax and enjoy yourself…..maybe with a cookie or two! ? Serves 7 Grain free, dairy free, vegan cookies that have double the chocolate flavor! Write a review Save RecipePrint Prep Time 10 min Cook Time 12 min Total Time 22 min Prep Time 10 min Cook Time 12 min Total Time 22 min Ingredients
1/2c+2tbs (70g) almond flour
2 tbs (10g) Hershey Dark Chocolate cocoa powder (can sub cacao powder)
1/3c (35g) coconut flour
2tbs dry sweetener
1tsp baking powder
3tbs coconut oil, melted (can use butter if desired)
1 1/2tbs mini chocolate chips (or cacao nibs)
Instructions
Preheat oven to 350 degrees.
Line baking sheet with parchment paper.
Sift together dry ingredients.
Mix in melted coconut oil.
Stir in chocolate chips.
Form dough into desired size/shape cookies.
Bake for 12-15 minutes.
Notes
Nutrition (for 1 out of 7 cookies)
Calories: 147, Protein: 3.3g, Carbs: 7.8g, Fat: 12.8g, Saturated Fat: 6.8g, Sodium: 30mg, Fiber: 3.5g, Net Carbs: 4.3g, Sugar: 2g
By Sarah Ingredients Of A Fit Chick https://ingredientsofafitchick.com/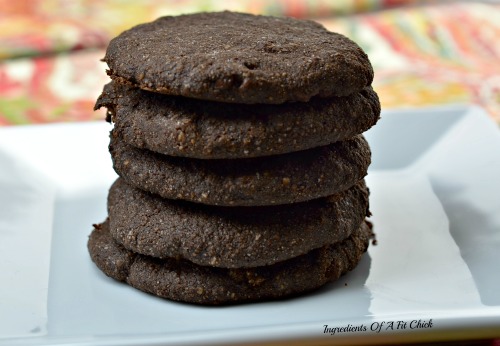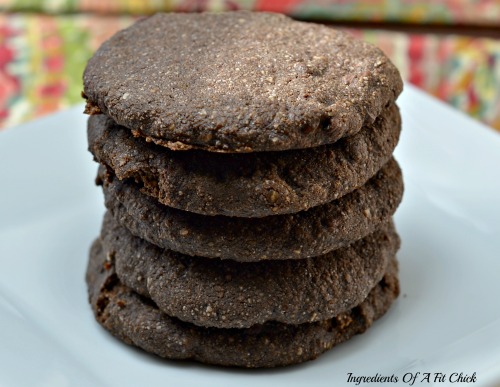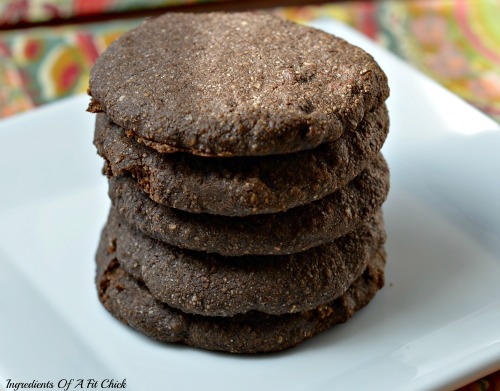 *How do you satisfy your chocolate craving?
*Do you have any plans for the weekend?
*How will you take time out for yourself to relax?