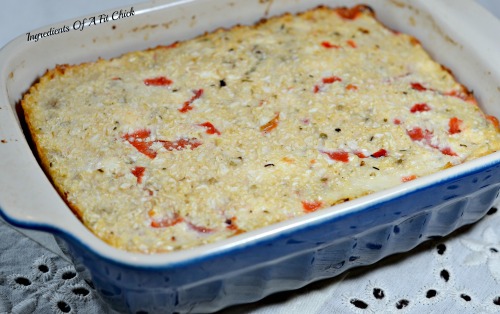 Happy Monday! I hope you had a great weekend! I was able to spend a bit of time with my sister, which was great! On top of that, I think we are finally getting some warmer weather! Thank goodness! Today's recipe is quick, easy and very delicious! Serve it as a side dish or a main course (like me ;)) I hope you enjoy! Have a great start to your week! Roasted Red Pepper & Goat Cheese Cauliflower Bake2014-02-16 13:40:46 Serves 2 A flavorful low carb dish that is perfect as a main course! Write a review Save RecipePrint Prep Time 20 min Cook Time 45 min Total Time 1 hr 5 min Prep Time 20 min Cook Time 45 min Total Time 1 hr 5 min Ingredients
3/4c (255g) riced cauliflower
1c (120g) low sodium roasted red peppers, chopped
1/2c (56g) crumbled goat cheese
1 large egg
2 large egg whites
Seasonings To Taste
Italian Seasoning
Black Pepper
Garlic Powder
Onion Powder
Salt, optional
Instructions
Pre heat oven to 350 degrees.
Spray oven safe baking dish with nonstick spray.
Whisk together egg and egg whites.
Combine remaining ingredients.
Pour into baking dish.
Cook for ~40 minutes.
Turn oven to broil.
Broil for 3-5 minutes or until golden.
Serve hot or cold.
Notes
Nutrition: (for 1 out of 2 main dishes)*
Calories: 185, Protein: 14.4g, Carbs: 12.4g, Fat: 8.7g, Saturated Fat: 4.8g, Sodium: 260mg, Fiber: 3g, Net Carbs: 9.4g, Sugar: 4g
*Can also be 4 side dishes
By Sarah Ingredients Of A Fit Chick https://ingredientsofafitchick.com/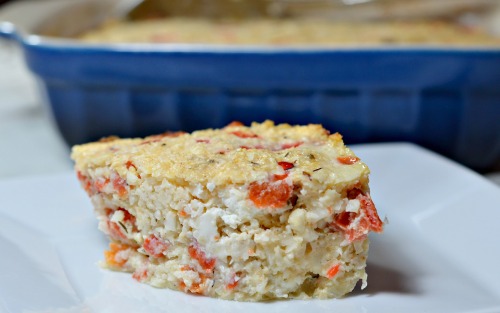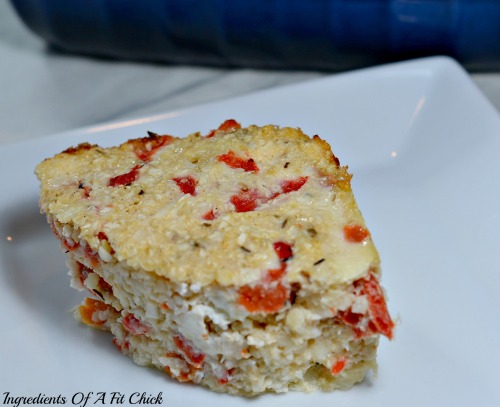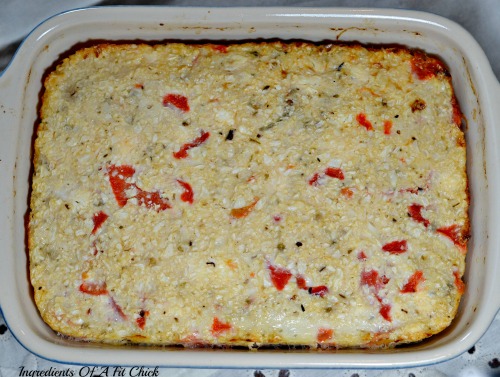 *What is your favorite way to use cauliflower?
*Did you do anything fun over the weekend?
*Are you beginning to see Spring temperatures in your area?