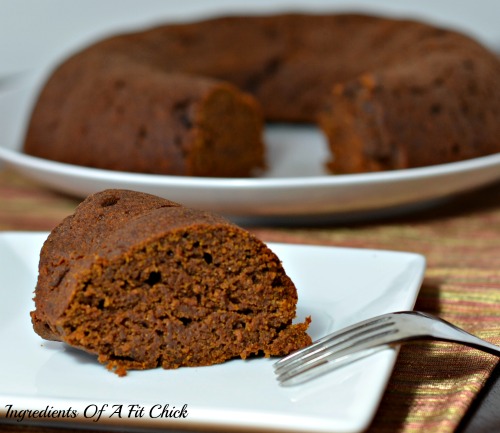 Happy Wednesday! I hope you are having a great week! Since I didn't share a delicious recipe with you on Monday, I thought I would share one today! This is another one that has been sitting in the archives since long before Christmas (hence the gingerbread ;)) I was asked to make a 'healthier' version of gingerbread…and that's what I did! I hope you enjoy! Have a great Wednesday! Whole Wheat Gingerbread Bundt Cake2014-01-11 17:18:54 Serves 16 A flavorful, healthy bundt cake that is perfect for any occasion. Write a review Save RecipePrint Prep Time 20 min Cook Time 25 min Prep Time 20 min Cook Time 25 min Ingredients
2 c whole wheat flour
1/2 c Monk Fruit In The Raw (or sweetener of choice)
2 tbs ground ginger
1.5 tsp cinnamon
1/2 tsp cloves
1/4 tsp nutmeg
1 tsp baking powder
1c pumpkin
1 large egg
2 large egg whites
3/4 c coconut oil
1/2 c molasses
Instructions
Preheat your oven to 350 degrees.
Spray your bundt pan (or cake pan) with non stick spray.
Whisk together your dry ingredients.
In a second bowl, mix together your wet ingredients.
Combine your wet and dry ingredients.
Pour batter into the pan.
Bake for 20-25 minutes.
Allow to cool before serving.
Top with whipped cream, if desired.
Notes
Nutrition: (for 1 out of 16 slices)
Calories: 181, Protein: 3.4g, Carb: 19.1g, Fat: 11.2g, Saturated Fat: 9.2g, Sodium: 18mg, Fiber: 3g, Sugar: 6g
By Sarah Ingredients Of A Fit Chick https://ingredientsofafitchick.com/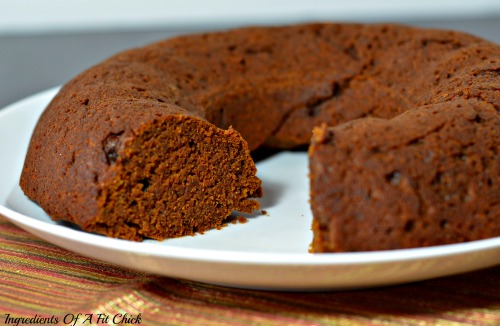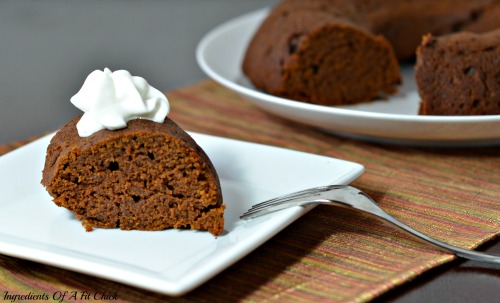 *What recipe have you made 'healthier' lately?
*Are you still thinking about holiday food flavors like me?
*What is the best meal in your lunch box today?