Reebok ZQuick Sneaker Review
The following post is sponsored by FitFluential LLC on behalf of Reebok
"These Shoes Will Make You Unnaturally Quick"
Happy Monday! I hope you had a great weekend! Today I am sharing with you an amazing new sneaker that I was given the opportunity to try through my work with FitFluential. When they selected me to review this new shoe I was really excited because I had read a bit about it. It sounded like a really light and comfortable sneaker, which I LOVE! I am not one for heavy shoes. When they arrived they came packaged inside a great tote (which has made an awesome gym bag btw!) So what makes this new shoe so special? Well, they were designed based off of inspiration from high performance tires (Z-Rated tires). These special tires are designed to give a car traction, control and speed so it can perform at an optimal level. Well, guess what these sneakers are also designed to do? Give us runners the necessary comfort so we can run at our optimal speed with traction, control and of course, stylish comfort!

These sneakers did all of that! They are obviously very stylish, are super comfortable, light, had great grip while running and also gave me great control when I put them to the test in an agility workout! I could move side to side and front to back with no problems at all! They were amazing! Like I mentioned above, I am not one for heavy sneakers. These gave me all the support I needed, yet made me feel almost like I wasn't wearing anything!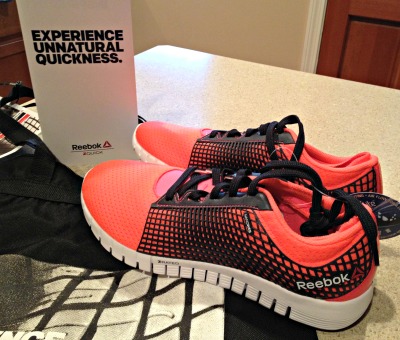 A few of the features that make the shoes so comfortable are they are:
*light weight
*breathable
*low cut so you can move easily
*they have a high durability rubber bottom so they last longer (instead of wearing out like a lot of my other shoes)
*flexible so that they move with your foot
These sneakers can handle any kind of workout….and will definitely last! I am pretty rough when I hit my agility workouts hard and these things have held up! I can't wait to throw them on again for my workout tomorrow!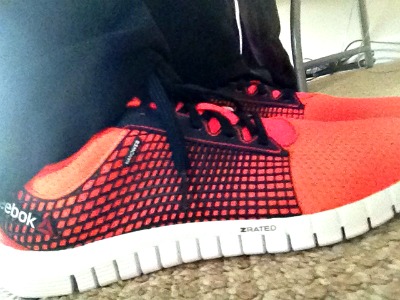 There was an awesome YouTube video on these too featuring Knowshon Moreno, Aly Raisman and Johny Hendtricks HERE
If you are interested in trying them out, you can buy the sneakers online now! Just click HERE
Or if you have a Finish Line store near you, they are available there!
************************************************************************************************************************
*Have you tried the new ZQuick Sneakers yet?
*What is your favorite sneaker to wear during an agility workout?
*What is your favorite feature of these new sneakers?