 Happy Friday! I hope you had a great week! Mine has been very long! I am so excited to be able to sleep in tomorrow! But before we dive into the weekend, I wanted to leave you with one more healthy recipe that would be perfect for Superbowl Sunday! Do you remember the pizza muffins? Well this delicious was created the same day! It just goes to show how versatile the recipe is! Either of these muffin recipes or Wednesdays recipe are great, healthy options for this Sunday's game! I hope you are able to include them into your game day eats! Have a fabulous weekend! Buffalo Chicken Muffins2014-01-12 15:19:36 Yields 6 What better way to enjoy buffalo chicken than in a healthy and protein packed way"blog-yumprint-header"> Write a review Save RecipePrint Prep Time 15 min Cook Time 25 min Total Time 40 min Prep Time 15 min Cook Time 25 min Total Time 40 min Ingredients
1/2 lb (8oz) ground chicken breast
2 large eggs
1/4c reduced fat blue cheese
2 tbs hot sauce (buffalo sauce)
1/4 tsp black pepper
chives, chopped
Instructions
Pre heat your oven to 350 degrees.
Spray 6 muffin cups VERY WELL with non stick spray.
Mix together your ground chicken and eggs.
Mix in your blue cheese, hot sauce and chives.
Divide batter evenly between muffin tins.
Bake for 20-25 minutes.
Top with additional hot sauce, if desired.
Notes
Nutrition: for 1 out of 6 muffins
Calories: 82, Protein: 12.5g, Carbs: 1.2g, Fat: 3.2g, Saturated Fat: 1g, Sodium:369mg, Fiber:0g
By Sarah Ingredients Of A Fit Chick https://ingredientsofafitchick.com/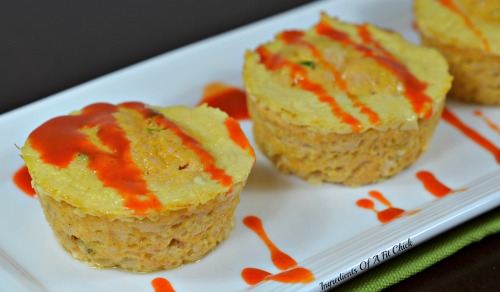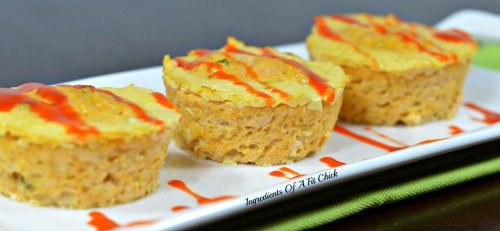 *What are you doing for the Superbowl?
*Are you making any food for the game?
*Who are you cheering for?