What I Ate Wednesday #58
Happy Wednesday! I hope you are having a great week! Today is an extra long work day for me: 9am-9pm, but I wanted to make sure I was still able to share my weekly meals with you! I have been craving nuts: macadamias, almonds and pecans like crazy lately! As well as cheese….which I think will never change! haha

I hope you enjoy! Have a great Wednesday!

Meal #1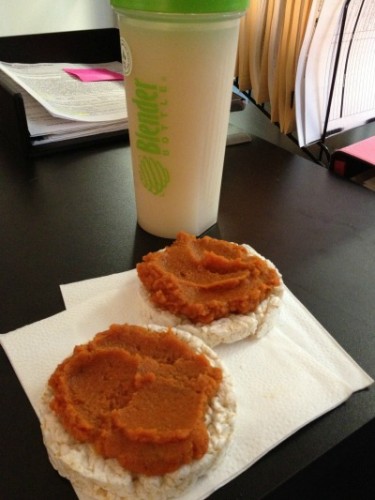 Yes, my normal post workout meal!

PB Cookie protein shake and 2 rice cakes topped with cinnamon hazelnut pumpkin

Meal #2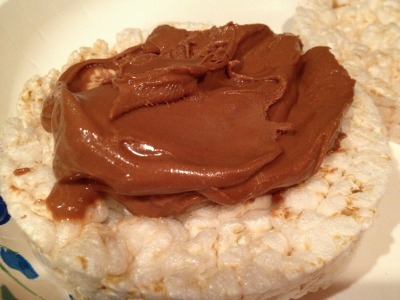 Then a major chocolate craving kicked in, so I had 2 rice cakes (slight addiction to rice cakes too) topped with Chocolate Coconut Almond Butter by Nuts N More

I highly recommend you get some of this ASAP!
Meal #3 Cajun salmon with lots of coconut oil roasted veggies: asparagus, zucchini, summer squash, a hunk of avocado and some raw almonds!
Meal #4 Snackity snack time…..roasted and unsalted macadamias from Trader Joes and some lightly salted almonds!
Meal #5 Ok, I know you are thinking, "What is this mess" haha! Bison stuffed cabbage topped with marinara sauce and melted cheese with a side of veggies! Broccoli, brussels and asparagus all roasted and topped with ghee! Do you even eat your greens?! haha No shortage of them here!
Meal #6 Straight up out of the blender!!! Cherries N Cream protein ice cream with a twist (which I will be sharing soon!)
***********************************************************************************************
*What have you been craving lately?
*What is one food you could never give up?
Most importantly, have you joined the WIAW party yet? If not, click below to get all the details! As always, a big THANK YOU to Jenn from Peas and Crayons for hosting this weekly food fest!