Koss Headphones Review
Today I am sharing with you an exciting new product that I was fortunate to try out through the Fitfluential Ambassador program! Last week I received 2 pairs of headphones from Koss, the Fitclips and Fitbuds! Koss headphones were developed especially for females who are always on the go! They teamed up with Dara Torres to help design this new line! They are 33% smaller than normal Koss earbuds, are sweat resistant and come in a whole bunch of fun colors!!!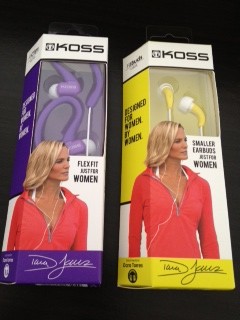 Are you ready to check them out??!
First up are the FitBuds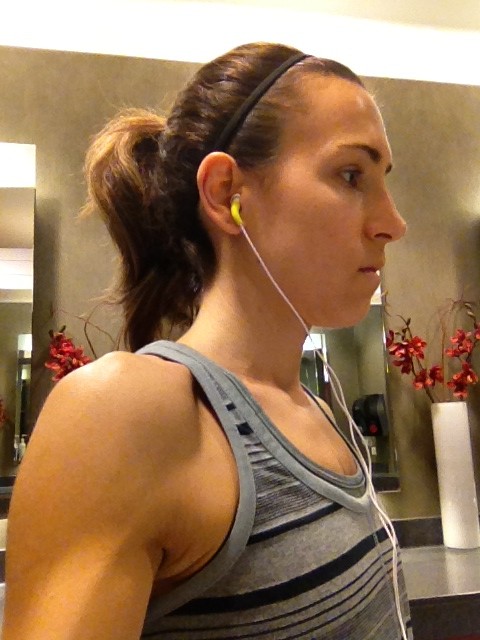 I put these to the test the next morning in my 5:30am cardio session! I have small ears so I put the 'small' ear cushions on them (they come in 3 sizes, S/M/L). As soon as I gave them a little twist in them felt nice and snug! This is always a big issue with me. I can never find earbuds that STAY in my ears or ones that are small enough! These fit like a glove! I headed up stairs to the elliptical to sweat it out for an hour…..and they stayed in perfectly! Well, to be honest, I am not much of a sweater, but none the less they didn't move! I was in LOVE!!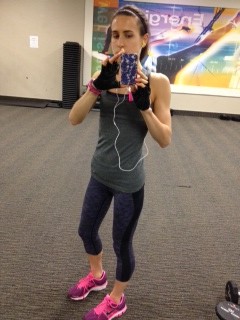 Later in the day I went back for round 2…..weights! Of course, I tested the headphones out for this too! I pretty much assumed that if they could withstand my cardio, they'd be amazing during weights! And they didn't let me down! Not only did they fit well, stay in my ears and come in a bright, fun yellow color….but the sound on them is AMAZING!!!! It puts the sound on my other earbuds to shame!
Next up was the FitClips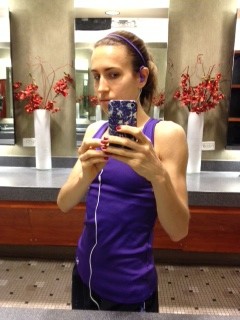 Just like the FitBuds these fit nice and snug into my ears which I loved!! They are light weight, which was nice because I hate the feeling of a heavy earphone on my ears. The sound was amazing too! It was nice and clear! The best part is these earphones don't budge AT ALL!!! No matter what you are doing, these things are not moving!! Which is great if you are a runner like me!! Plus, they are in purple which is one of my favorite colors!
For me I think having a pair of each is the best of both worlds! I will be using the clips for my cardio and the buds for my weight workouts! Music is one of the biggest parts of my workouts and these headphones give me some great sounding music to pump me up!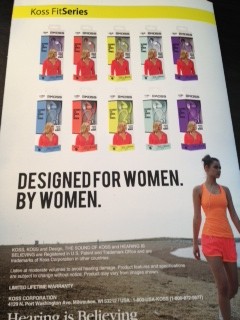 If you are looking for a new pair of headphones, I would highly recommend trying out either pair of the Koss headphones!! You will not be let down! If you do decide you'd like to try them, the amazing people at Koss have extended a $5 off promotion to all my readers that will also get you FREE SHIPPING! Just use the promotion code Fit4Life at checkout!
Make sure to follow Koss on
Twitter: @kosscorporation
and
Instagram: @kosscorporation
****************************************************************************
*Have you tried Koss headphones before?
*Do you prefer clips or ear buds?
*What color headphones would you want?
***************************************************************************************************************
Disclaimer:
Although the wonderful people at Koss were kind enough to send me these samples to try, I was not paid or compensated for this review. All opinions and thoughts are that of my own.
********************************************************************