 Cranberry Orange Jelly
Serves: 6
Happy Wednesday! Normally today is the usual What I Ate Wednesday fest, I know. However, the 21st of each month is the fun day to share our Recipe Redux creations and it just so happens to land on today! So, instead of my normal post, I will be sharing with you this delicious recipe that you can add to your holiday table spread!
For those of you who are new to Ingredients Of A Fit Chick and aren't familiar with Recipe Redux, it is the first and only recipe challenge founded by registered dietitians. The Recipe ReDux is focused on taking delicious dishes, keeping them delicious, but making them better for you. It was founded by 3 amazing dietitians with a belief that healthier eating should always taste delicious. And let me tell you, I totally agree! The amazing bloggers who participate in this have come up with so many delicious, yet healthy recipes! If you haven't been to the Recipe ReDux site yet, definitely pop over and check it out! Plus you can check out the other recipes from this month below!
Our challenge this month was "Vintage Side Dishes." We had to talk about a favorite side dish that began back with our grandparents or mother and share how it has become our favorite again! Well, to be honest, my family doesn't really have any 'vintage' side dishes. My family has always been fairly healthy, so for the most part our side dishes include squash, mashed potatoes, stuffing, peas, sauerkraut, carrots, rolls and cranberry sauce. We never had any sweet potato pie or squash casseroles. It has always been straight up veggies! So, I decided to take one of my favorite side dishes, cranberry sauce, and turn it into something a bit healthier! My family has begun to shy away from eating it over the last few years because of the amount of sugar that you find in those cans! So this is my new version that I will be bringing to my holiday table this year…sugar free, but loaded with flavor! Fit Ingredients
2 1/2c (324g) frozen cranberries
1/4c (44g) chia seeds
2tbs fresh squeezed orange juice
zest of 2 large oranges
1/2c + 2-3 tbs water
stevia, to taste
Directions
1. In a microwave safe bowl, heat your cranberries for 3-4 minutes or until thawed.
2. Mash your cranberries with a fork until you have the desired consistency (I like some whole cranberries in mine, but feel free to mash it down so there are non left)
3. Mix in your chia seeds, stevia, orange juice, orange zest and 1/2c water.
4. Coverage and refrigerate over night.
5. Before serving give the jelly a stir. Add 2-3 more tbs of water, if needed, to reach your desired consistency.
6. Serve along side a delicious turkey! ? This jelly is so versatile! I ate it with chicken, over some eggs and on crackers! It would also taste great on those left over turkey sandwiches on Friday! It had a nice tartness from the cranberries that had just the right amount of sweetness! It was not over bearing! And the hint of orange took it to a whole new level! (I might have already made and eaten 2 batches of this! ;))
*********************************************************************************************************************
Nutrition: per 1 out of 6 servings (about 1/4c)
Calories: 59.8, Protein: 1.4g, Carbs: 9.7g, Fat: 2.0g (0g Saturated), Sodium: 1mg, Fiber: 7g (Net Carbs: 2.7g)
*********************************************************************************************************************
*What is your favorite Thanksgiving side dish?
*Does your family have a vintage recipe?
*Are you missing W.I.A.W? If so, click below to see all the other great bloggers who linked up their food!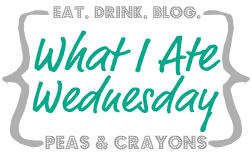 And if you missed last weeks post, click here!!