Pumpkin Pie Ricotta Cake
Serves: 4
Happy Friday! We have made it through another week and the first full week of October! I can't believe how time flies by! I hope you have some fun plans for the weekend! The boyfriend and I plan on spending a lot of time relaxing! Some much needed relaxing! Plus, the weather here this weekend is supposed to be very cold and rainy, so that gives us a good excuse to stay in and not feel guilty! ?
Today's post was a recipe that you saw in one of my What I Ate Wednesday posts a few weeks back! Since then I have been getting quite a few requests for me to do the official post, so here it is! I made this cake for the boyfriend the day he returned from Korea so he would have a healthy, sweet, fall treat to enjoy the day he came back! He isn't much of a pumpkin or cinnamon person, but he loved this cake! I hope you enjoy it too!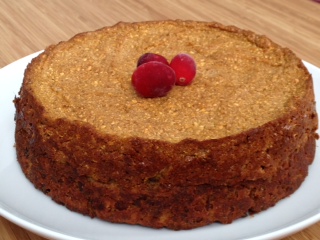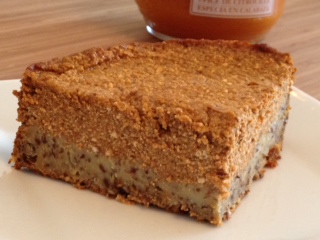 Fit Ingredients
Base
1/4c (26g) ground flax seed
1/4c (30g) oat flour
1/4c (21g) SunWarrior vanilla protein powder
1/4c stevia (powder)
1 large egg
1 1/2 tbs coconut milk
1 tbs water (or more coconut milk)
2 tsp maple extract (or vanilla)
1 tsp butter extract, optional (but adds a great flavor)
1/2c (124g) reduced sodium cottage cheese
Ricotta Layer
3/4c (183g) pure pumpkin (not pie filling)
3/4c (6oz) low sodium and fat free ricotta (I use Calabro brand)
1 large egg white
3 tbs stevia (powder)
1 1/2 tsp pure vanilla extract
1 tsp cinnamon
1/2 tsp nutmeg
1/8 tsp cloves
1/4 tsp ginger
1/2 tsp allspice
******************************************************************************
6in spring form pan
non stick cooking spray
electric hand mixer
*****************************************************************************
Directions
1. Pre heat your oven to 335 degree.
2. Spray your spring form pan with non stick cooking spray.
3. In a bowl combine the dry ingredients for your base layer: flax, oat flour, protein powder and stevia.
4. In a second bowl whisk your wet ingredients for the base: egg, coconut milk, water, maple/vanilla extract, butter extract and cottage cheese.
5. Mix your dry ingredients into your wet ingredients.
6. Spread your base layer evenly in the bottom of the spring form pan.
7. Combine all ingredients for your ricotta layer in a bowl.
8. Mix your ricotta layer ingredients using hand electric mixer.
9. Spread the ricotta mixture evenly on top of your base mixture.
10. Bake the cake for ~ 65-70 minutes or until the middle is set and the edges are slightly browned.
11. Allow the cake to cool and the refrigerate for 6-8 hours before slicing.
12. Serve with a dollop of greek yogurt on top or some melted dark chocolate drizzled over the top!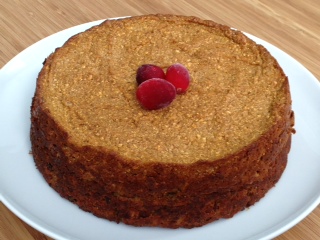 Yes, I did make this cake for the boyfriend, but it smelled so good that I had to 'taste test' it before I gave it to him (I wouldn't want him to eat something bad, now would I? ;))! It was AMAZING!! It tasted just like a pumpkin pie with the hint of maple in the crust! It had a soft center and bottom with a slight crust on the edge! Oh my goodness, I think I need to make another one now that I am typing this! I am starting to crave it again! This was the perfect recipe to squelch that pumpkin pie craving I was having (yes, in September!) If you are looking for a healthy recipe for your Thanksgiving dessert table, this is it! All the flavor, without all the guilt!Feel free to double the recipe amounts to serve more people, or spread the fillings thinner so each layer isn't as thick!
*******************************************************************************************************************
Nutrition: (per 1 out of 4 slices)
Calories: 170.0, Protein: 17.6g, Carbs: 15.1g, Fat: 5.5g (1g Saturated), Sodium: 196mg, Fiber: 5g (Net Carbs: 10.1g)
*******************************************************************************************************************