Crustless Roasted Red Pepper, Kale & Turkey Quiche
Serves: 4
Happy Thursday! The week is quickly coming to an end! I can't even believe how fast it has gone by! I wanted to thank everyone for their kind words, congratulations and support on yesterday's post! It really meant so much to me! It's nice to be surrounded by such a caring group of people! The blogging world is such an amazing community!
Today I decided to bring you a savory recipe since we haven't had one in awhile! I know, I know, you want the sweets, but we have to balance our sweet tooth with things savory too! This recipe was kind of a quick throw together on Sunday afternoon when I was in need of a snack but hadn't gone grocery shopping yet. I took a bunch of things from my fridge and Ta-Da! A snack was born! ? This would make a great breakfast when paired with some fresh fruit and nuts or avocado!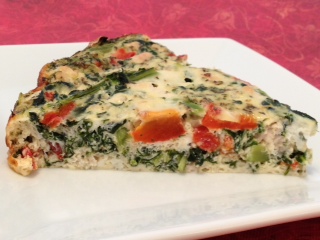 Fit Ingredients
4oz (113g) ground turkey breast, cooked
1c (85g) kale (if frozen, thawed)
4oz (120g) low sodium roasted red peppers, diced
2 large eggs
6 egg whites
1/2c coconut milk
1 1/2 tsp italian seasoning
***************************************************************
8-inch cake pan
non stick cooking spray
**************************************************************
Directions
1. Pre heat your oven to 375 degrees.
2. Spray your cake pan with non stick spray.
3. In a bowl, whisk your eggs, egg whites and coconut milk.
4. Mix in your cooked turkey breast, diced roasted red peppers, kale and italian seasoning.
5. Pour egg mixture into your pan.
6. Bake for ~55 minutes.
7. Serve warm or chilled.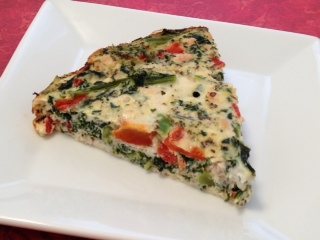 This recipe was easy and tasted amazing! Plus it made 4 servings (well, 2 for me), so I had left overs to pack for my lunch the next day! I had this with some avocado and a sliced apple! Delicious! Feel free to swap in/out any veggies or meat you'd like! Also, adding in some feta or goat cheese would taste amazing! **************************************************************************************************************************************
Nutrition: (per 1 out of 4 servings)
Calories: 114.1, Protein: 15.2g, Carbs: 4.3g, Fat: 3.1g (1g Saturated), Sodium: 145mg, Fiber: 1g (Net Carbs: 3.3g)
***************************************************************************************************************************************