Mini Naked Coconut Cacao Cakes
Serves: 4
Happy Friday! I hope you have had a great week and have some fun plans for the weekend! This week has felt like eternity for me! I feel like Sunday can't come fast enough! Not because I want the weekend to be over, but my excitement and anticipation for the race is growing everyday! Although the weather forecast for Sunday is still looking rainy, I am hopeful that it will turn out like yesterday and the sun will come out despite the forecast! Fingers crossed!
Today the boyfriend and I are making the 5 hour drive up to New Hampshire! Yes, you should feel bad for him having to be stuck in a car with me for 5 hours….talking the whole time! haha Tomorrow we will do a whole lot of relaxing and carb eating in preparation for the race…..well, in preparation for my race! The boyfriend will just be joining in on the carb fun!
I also wanted to thank you for your patience with the switch over with Ingredients Of A Fit Chick! We are now an official site! And thank you to everyone who has already resigned up for the daily recipe emails and RSS Feeds! I'm glad to see that I haven't lost you because there are many more delicious and healthy recipes yet to come! Like this one…… Fit Ingredients
1/2c + 2tbs (42g) coconut flour
1/2c (32g) vanilla casein protein powder ( I used Optimum Nutrition brand)
Stevia, to taste (I used 1/3c stevia and my cousin said it wasn't sweet enough, but I loved it!)
1 tsp baking powder
3 large eggs
1 1/2s tsp vanilla extract
1 tsp coconut extract
3/4c coconut milk
1/2 tsp ACV (apple cider vinegar)
1/4c (28g) raw cacao nibs (can sub chocolate chips)
1/2c (30g) reduced fat shredded coconut
****************************************************************************
4-mini spring form pans (or ramekins)
non stick spray
****************************************************************************
Directions
1. Pre heat your oven to 350 degrees.
2. Spray your spring form pans very well with non stick spray.
3. In a bowl combine your dry ingredients: coconut flour, casein protein, stevia and baking powder.
4. In a second bowl whisk together your eggs, vanilla extract, coconut milk and ACV.
5. Combine your wet and dry ingredients. Mix well.
6. Fold in your cacao nibs and coconut.
7. Divide your batter evenly among your 4 pans.
8. Bake for ~30 minutes. So, why are they called naked cakes? Well, because I really didn't know what else to name them! haha They are mini cakes, but they are not frosted! At first I wanted to try just one and then frost the rest, but the 'one' ended up being so good, the rest didn't last long enough for me to frost!! I literally put them into ziplock bags and took them with me to eat as snacks….like really big cookies! They were DELICIOUS!!! So delicious, that I had to mail one to my cousin to try since she is addicted to coconut! These are definitely going to be one of my top recipes to make! Plus they are super easy to make! You could always stack all 4 of them and make a layer cake (like I had intended to do), or make 2 larger layers for a double layer cake! A spread of coconut manna in the middle and some homemade chocolate sauce drizzled over the top would make these mini cakes 'dressed' and OUT OF THIS WORLD!!!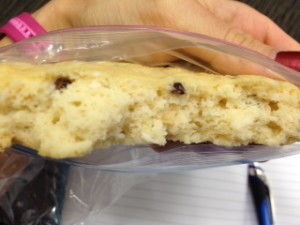 A Naked Mini Cake in a ziploc! 😉
**************************************************************************************************************************************
Nutrition: (per 1 out of 4 cakes)
Calories: 209.0, Protein: 13.7g, Carbs: 12.5g, Fat: 12.1g (8g Saturated*), Sodium: 129mg, Fiber: 7g (Net Carbs: 5.5g)
*The saturated fat is high due to the shredded coconut. However, the fat in coconut has been proven to be healthy, helping to boost your good cholesterol levels! No, I am not saying to go eat a jar of coconut manna (best stuff EVER btw), but having a treat like this can very easily fit into a balanced diet!
**************************************************************************************************************************************