'Spring Time' Strawberry Salad
Serves: 1
I absolutely love this time of year….when all the fresh berries start hitting the store shelves (for cheap)! They add such amazing flavor to any meal of the day. Plus they are healthy, supplying us with needed vitamins, antioxidants and fiber!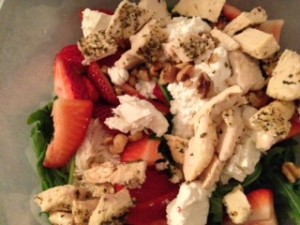 Fit Ingredients:
4oz chicken breast
Italian Seasoning, to taste
1 oz goat cheese
2oz (1/4c, 62g) fat free, low sodium ricotta (or additional 1 oz goat cheese)
1/2 c fresh strawberries, sliced
1 package Shirataki Tofu Noodles (or regular pasta, or quinoa)
85g fresh spinach
15g chopped walnuts
Salt and Pepper, to taste (optional)
Directions:
Pre-heat your oven to 350 degrees.
Bake the chicken with italian seasoning for about 15 minutes or until cooked through. While your chicken is cooking, rinse your shirataki noodles under cold water and heat in microwave for 1 minute. Pat them dry with a paper towel. Add spinach to a bowl and top with noodles, goat cheese, ricotta, strawberries, walnuts and salt & pepper (if using). Remove chicken from the oven and slice. Top salad with chicken.
*****************************************************************************
Nutrition:
Calories: 399.3, Protein: 44.1g, Carbs: 18.3g, Fat: 18.4g (4g Saturated), Sodium: 237mg, Fiber: 9g (Net Carbs: 9.3g)