Ricotta Stuffed Strawberries
Serves: 8
These are so simple to make! They look beautiful and taste delicious! They would make a great addition to any party spread….or just a little snack!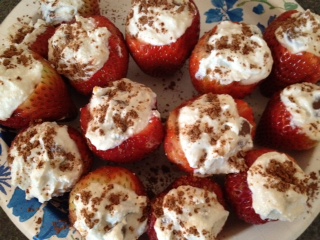 Fit Ingredients:
1 1/2lbs (525g) fresh strawberries, hulled
8oz (248g) fat free, low sodium ricotta cheese
1/2 tsp pure vanilla extract
1/4c splenda (or sweetener of choice) *I like to use 1/4 tsp liquid stevia since it is calorie and carb free. However, I made these for my boyfriend, so I went with splenda.
1 tbs unsweetened coco powder
1 tbs orange zest
4 tbs (60g) mini chocolate chips, optional
Directions:
In a mixing bowl, combine ricotta, vanilla extract, orange zest and splenda (or sweetener of choice). Using an electric hand mixer (if possible), whip ingredients together until they form a nice cream like consistency. One you have reached this, fold in your chocolate chips (if you are using them). Using a mini spoon, I like to use my ice cream soda spoons, fill each strawberry with about a 1 tsp of filling. Use a plate of bowl with a side so that you can get the strawberries to stand up. Fill all the strawberries. Put them in the refrigerator over night to set. Just before you serve them, sprinkle them with the cocoa powder. **You could also drizzle them in white or dark chocolate ?
*******************************************************************************
Nutrition for 1/8 of recipe (without chocolate chips):
Calories: 54.7, Protein: 6.5g, Carb: 6.8g, Fat: 0.4g (0g Saturated), Sodium: 25mg, Fiber: 1.5g (Net Carbs: 5.3g)
Nutrition for 1/8 of recipe (with chocolate chips):
Calories: 94.7, Protein: 7.0g, Carb: 11.8g, Fat: 1.6g (0g Saturated), Sodium: 25mg, Fiber: 2g (Net Carbs: 9.8g)